A guest post by Steven Shattuck of Bloomerang
Communicating with your nonprofit's donors is probably pretty high on your to-do list. After all, communicating with donors and retaining them for the long haul is essential for organizational growth.
It's much more expensive to acquire new support and replenish lapsed donors than it is to retain your supporters already in your donor database. Bloomerang's retention guide even explains how a mid-sized organization can make more than $10,000 additional funds simply by increasing their retention rate by 10%.
This guide also discusses the reasons that supporters lapse, according to a study by Adrian Sargeant. It boils down to the idea that better communication can help prevent a large percentage of lapsed support.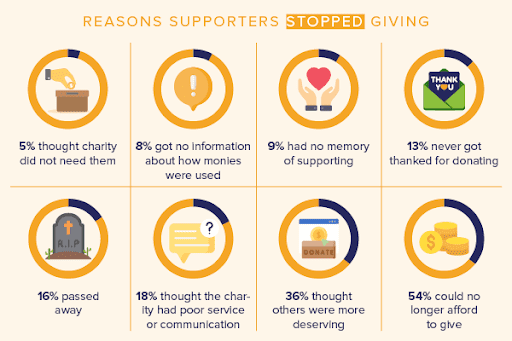 So how can you better communicate with your supporters to keep them around for the long term and help your organization grow? The answer is personalization and efficient use of technology. 
In this guide we'll cover three tech tips that you can use to optimize your communications:
Leverage Donor Segmentation in Your Database
Choose Multiple Communication Platforms
Automate Communications Where Appropriate
1. Leverage Donor Segmentation in Your Database
When was the last time you got a personal letter or email from a friend or colleague? Maybe your best friend knows how much you love cat videos, so she sent you the latest one with a note hoping that it'll make your day. Or, maybe a colleague sent you a heartfelt thank-you for your work on a recent project. Perhaps it was even a constituent from within your nonprofit organization, explaining how much you impacted their lives.
All of these examples have one thing in common: They're all incredibly personal. Your best friend used the knowledge she has about you to send the video, your colleague noted a recent action you took to help them, and your constituent discussed the direct impact of your actions. If they didn't have this information, none of these parties could send as warm a note of appreciation.
Similarly,to communicate effectively with your supporters, you need to know something about them. Click To Tweet
Use your donor database to get more personal
In an ideal world, you would be able to send an individualized message to every supporter in your donor database. However, you're hard-pressed for time as it is, so that's just inefficient.
Instead, you should create segments in your donor database that will guide communications, ensuring they're personalized while also allowing you to work efficiently.  For instance, the most common ways to segment donors are by:
Recency. Separate donors who are brand new to the system from those who have been around for a while.
Frequency. Consider how often donors give to your organization. For example, monthly donors would be in a different segment from annual ones.
Type. How do these donors give to your organization? Do they give at events or online? Alternatively, are they volunteers who give their time?
Amount. Your team likely treats major donors and donors who contribute under $100 annually differently. Consider the in-betweens, too, to cover all your bases.
Reason. Ask donors why they give to your organization and create supporter segments based on similar answers.
Interest. You can reach donors with similar interests with a similar message. This analysis will help you craft the ideal communication messaging.
If you were to send the same newsletter, fundraising appeal, thank-you letters, and event invitations to everyone in your donor database,  those supporters would not remain engaged for long. They'd be getting too much irrelevant information.
Instead of a one-size-fits-all approach to our communications, leverage your donor database to create segments that will help tailor your message and personalize it according to what will best resonate with supporters.
2. Choose Multiple Communication Platforms
Too often, nonprofits take a binary approach to their communication plans. They may say, "It's the digital age, so we've gone entirely digital" or "We're resistant to new technology and have stuck to old-school methods." While this may feel more manageable for busy nonprofit staff members, this strategy is actually harmful in the long run. Network for Good conducted a study noting that organizations that dropped to a single marketing channel from multiple ended up also dropping their retention rate by 31.32%.
Therefore, the best approach is to combine these methods and use a multi-channel approach to your communication strategy. 
Consider the number of platforms you engage with every day. You check your email, social media accounts, mailbox, text messages, and probably even more. With so many platforms available, you can make an impact by communicating your message on a number of different channels, all of which will reach your supporters at varying levels of success. However, when they see your branding across these channels, your supporters are more likely to retain the message due to repetitive exposure.
Combine repetitive exposure with well-crafted messaging and your supporters are bound to engage more than if they only received one message on one platform. You might consider communication platforms such as:
Email. Email is the bread and butter of a communication strategy.  Plan out automated drip campaigns and solicitations in your email marketing solution, and be sure you can track the records of these interactions in your donor database.

Direct mail. Do you get excited when you see you have mail in your mailbox (when it's not a bill)? Your supporters do too! Hand-written or typed out messages sent through direct mail platforms help support your digital marketing strategies.

Social media. Platforms like Facebook and Twitter allow you to give regular updates about your organization's latest activities. Adjust your messaging to account for the platform you're using and create groups on these platforms to create a sense of digital community.

Your website. This is where your supporters go to learn more about your organization's mission and often to give to your campaign page. Kanopi's UX guide explains that "Good [User Experience}, especially on your nonprofit website, will lead to higher retention rates, higher engagement rates, and an overall lower cost for website development and support." So be sure your site is easy to navigate, offers valuable information, and is well-designed overall.
Of course, you don't want to take on more than you can handle all at once. Start by adding in one platform at a time so that you can give each one the attention it needs to become a valuable resource for your supporters. You might start by optimizing your website, then creating email drip campaigns, and finally writing several social media posts to engage supporters.
3. Automate Your Communications Where Appropriate
Automation is best used by organizations that have already created a marketing strategy that they're using before ever automating their communications. Once you're confident in your marketing strategy, you can start using automation to enhance it. 
Until technology matches human intelligence, we still need fundraisers and marketing specialists to communicate impactfully with supporters.
There are a few worst-case scenarios you want to avoid in the automation process. For example, perhaps you create a drip stream of messages guiding supporters to give to your latest campaign. A new donor donates once and feels good, but before they even receive a thank-you message, they're entered into the middle of a drip campaign and receive another donation solicitation. That supporter likely will feel like their first contribution wasn't even acknowledged, much less appreciated.
Poor automation is even more detrimental than no automation, which is why you should optimize your strategy before automating everything you can.
Click To Tweet
Some of the optimization opportunities you'll probably get started with include:
Automating the confirmation email for online donations. This won't replace your additional "thank you" that you'll personalize later, but it should convey appreciation and act as proof that you did receive the gift.
Automating social media posts. Writing many social media posts all at once is a very efficient way to craft these messages. Schedule these posts to go out at specific times, but be sure to check in on them to be sure they're still relevant before they're posted.
Automating data collection. When you invest in new fundraising solutions, look for integrations or use a tool like Zapier to automate the data collection process. For example, you might automatically save the information about new supporters in your CRM when they give their first donation using an integrated donation page.
Nonprofit software and tech infrastructures are an important part of nonprofit strategies. However, you should also remember that technology can never completely replace a personal fundraising message. By leveraging technology, your goal is to maximize your relationships with supporters rather than ask the computer to do all the work.
---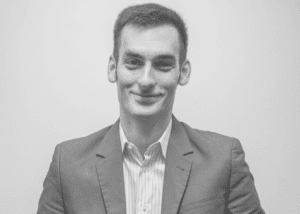 Steven Shattuck is Chief Engagement Officer at Bloomerang and Executive Director of Launch Cause.
A prolific writer and speaker, Steven is a contributor to "Fundraising Principles and Practice: Second Edition" and volunteers his time on the Project Work Group of the Fundraising Effectiveness Project and is an AFP Center for Fundraising Innovation (CFI) committee member.