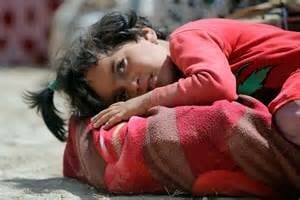 It was only April, and I had already received the best fundraising letter of 2015. And they had me after the first sentence.
MADRE wrote:
Dear Rona and Dennis,

I have an extraordinary story to tell you about how six teenage girls escaped from the extremist group ISIS–and into the care that MADRE partners in Iraq provide, thanks to you.
All right, I quit. After that sentence, you want to hear the story, right? My piddling little blog post is not nearly as important as six teenage girls escaping from ISIS.
And that's the point.
MADRE found a compelling story.
They made it personal. ("One night, 16-year-old Ola managed to slip the drugs meant for her into her captors' teapot.")
They made it topical and created a sense of urgency. (ISIS!)
They connected it to their work.
And they used the magic word, "you."
Because of all that, you want to know what happens next. You're probably cursing that Dennis Fischman guy who's talking about how the letter worked–instead of just letting you read it.
Do your donors feel that way about your appeal letters? Do they give them a quick glance and file them, or recycle them?  Or…would they feel cheated if they couldn't read them to the end?
How Good is Your 2016 Fundraising Letter?
I challenge you. If you think your letter might  be the best fundraising letter I'll see in 2016, take a moment right now and share the first sentence of that letter in a comment. I'll tell you what I think, and so will other readers.
Go!