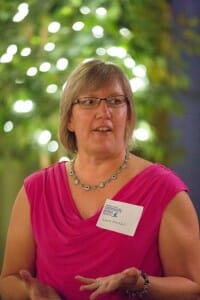 Laura MacNeil, Executive Director at North Shore Community Action Programs.
Our agency worked with Dennis on a 6-month project to increase our presence on social media. Our goal was to improve our visibility in the community, especially with people who would not necessarily know of our organization or need or services.
Dennis helped us develop a blog. He taught us how to coordinate the message with twitter, our newsletter and annual appeal. We gained insight on how to take advantage of the different social media tools.
At the end of the project, we definitely noticed an increase in people who would see us out in the community and know who we were and recognized our name. We had an increase in the people reading the blog, interacting with our Facebook page. It was a very satisfactory project.
Andrea Shapiro, Innovative nonprofit leader and experienced consultant to nonprofit and public organizations.
Dennis helped me to update and simplify the text for Second Chances' website (www.secondchances.org). It was an important and long overdue project for us – as a small nonprofit with only one part-time staff member, I was having trouble finding the time to do it myself, but I also didn't have a lot of time to supervise someone else doing it. It was extremely useful to have a communications specialist update the text, as an outsider's perception would be more reflective of our site visitors' experiences, and Dennis did an excellent job.
With a few short conversations, Dennis was able to distill my thoughts and needs into drafts of the key webpages, and with one exchange of comments and edits, he was able to produce nearly final text, which I then tweaked a little and updated the webpages. I was pleased with Dennis' quick turnaround; astute observations; clear, concise writing; and some useful structural suggestions that I look forward to implementing later.
Dennis was a pleasure to work with – professional; enthusiastic; clear about timeframes, deliverables, and pricing; and he worked well with limited supervision. I would definitely seek Dennis' advice and assistance with future projects, and I'd recommend him to others as well. His blog is a great read too.
Allison Pickering, Consulting Services Coordinator at ESC of New England
Dennis evaluated my organization's social media strategy in a way that was comprehensive, entirely thorough and made it easy to implement necessary change. He offered advice through an incredibly helpful dialogue that covered not only what we have developed on paper but how the strategy is being implemented as well. He also provided guidance on how I could more effectively work with supervisors to maximize our impact online, which was perhaps the greatest gift of all as mid-level employee responsible for all social media work within my organization (a typical scenario among nonprofits).
Dennis' help went far beyond the basics, and I could not be more grateful for his generous expertise. I recommend his services to anyone seeking help with nonprofit social media marketing efforts.
Ilene Weismehl, Development Manager at JOIN for Justice
Dennis has been working with us at JOIN to help us develop our first communication plan. He has helped us explore how we want to communicate with our alumni and supporters through print and social media. He also provided valuable insights as we designed language for our first donor report. We have greatly benefited from his expertise in nonprofit communications and strategy. In addition it has been a pleasure to work with him.

Robin Carton, Principal at Kayak Consulting Group
Dennis was a longtime staff member at the Community Action Agency of Somerville. He is a social justice advocate who has a good understanding of the value in using social media to enable nonprofit organizations to message effectively. He has been able to do this by utilizing a vivid writing style in order to reach a variety of audiences, translating technical discussions into language that's understandable and memorable, and understanding of the environment in which nonprofits work and the internal dynamics that affect their work.

Lois Josimovich, Dir. of Development & Communications at Massachusetts Alliance of Portuguese Speakers
Dennis is a thorough and highly experienced professional who has done incredible planning and development work at CAAS to benefit the Somerville community. He is an excellent writer and editor and is wonderful to work with on projects that we have done together.