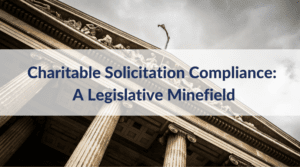 Guest post by Ify Aduba
Your relationship with your donor is like any other relationship: if you want to keep it healthy and strong, you have to put in some work.
There are several reasons why a donor might file for divorce. The question is, what can you proactively do to keep the relationship going? To renew your donors year after year, you want to make the relationship a priority and build trust.
Fundraising compliance is a key to building that trust.
There's an excellent chance that your organization is incorporated in one of the 41 states that require charitable solicitation registration. There's an even better chance that you are soliciting gifts in one of those 41 states.
Are you surprised? Don't be. You've done an incredible job with your programming. Your donors are impressed and uplifted by how you communicate the impact of their gifts. They have found you and your financial values are compatible. As unofficial ambassadors they are sharing you with their networks, spreading your message, expanding your outreach, and asking prospects to give. That's great.  That's also solicitation.
It's not just about where you are; it's about where the people you're asking reside. Are you casting a wide net, asking everyone connecting to your website and through social media to participate in your annual giving? Have you made your Donate Now button prominent so that anyone, anywhere, can find you and give? Maybe some of your donors have moved away, but remain loyal givers. Some of the best, most loyal givers are helping you out and, on your behalf, asking others to give. If they live in one of those 41 states, you need to comply with that state's laws.
Don't trip over technicalities as the money comes rolling in. Register before you ask.
Be an Organization Your Donors Can Trust
When that generous donor sends you a gift–because Husband Ricky talked about your work or Wife Lucy sent them an email–that gift landed them in your pipeline, no matter where they live. You aren't going to leave money on the table. You're going to build the relationship and ask again… and now you're soliciting. Determine if you're soliciting in a state and make sure you're meeting all of the necessary requirements.
Remember these four key steps and keep your fundraising compliance on track.
Research: Know your status in each state and you can easily map your path to compliance, including which applications to complete and what fees may be charged.
Apply: Make sure you are preparing the correct forms in the most streamlined and cost-effective manner.
Monitor: Follow these applications through to approval, for your donors' peace of mind.
Renew: Track due dates and fees so that your renewals are on time and complete.
Instill confidence in your donors so their focus stays on your mission. Transparency and accountability preserve the trust you've built.
If you're not in compliance, your run the risk of:
Fines and penalties that pull vital dollars away from the work that you are doing in your community.
Audits and enforcement actions that take your limited time away from the mission you're meeting.
Bad PR that can taint the reputation of your organization and follow you for years to come.
You want to be proactive about preserving your harmonious donor relationships while honoring your valuable and desperately finite time. Take a good-faith step toward relationship success and invest in compliance.
---
Author Bio:
Ify Aduba is a Nonprofit Compliance Specialist for Harbor Compliance, a leading provider of compliance solutions for organizations of all types and sizes. Headquartered in Lancaster, Pennsylvania, Harbor Compliance partners with organizations in every state and over 25 countries abroad to help solve the most challenging compliance problems. With clients that range from the largest organizations in the country to fast-growth startups, Harbor Compliance fully manages government licensing compliance in both nonprofit and business sectors.
Ify currently serves as President of the Board of the Pennsylvania Association of Nonprofit Organizations (PANO), President of the Administrative Ministries Team at Doylestown United Methodist Church, and Board member for the Bucks County Women's Advocacy Coalition. She is also a member of the Doylestown Branch of the American Association of University Women and Doylestown Rotary.