Look at this card.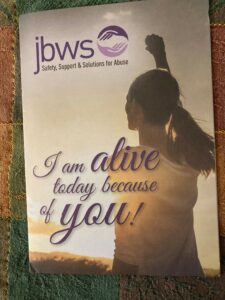 Before you know what JBWS stands for, or where it's based, or what it does, you know "I am alive today because of you!"
That phrase contains the three most powerful words in fundraising.
You might think those words were "I am alive (today)," and yes, those words make you sit up and take notice. Every donor wants to know what impact a donation will have. There's no greater impact than life or death!
But I want to say the other three words are the most powerful.
"Because of you."
Donors have to know that they are needed. They have to understand that they are wanted. And they need to be sure that when they give, their gift will be appreciated.
JBWS, an agency that supports victims of domestic violence and their families, clearly understands the most powerful thing they can say to donors. Does your organization?
Are you telling donors how great you are, or are you making the donor the partner of the person you are helping, and the hero of the story?
Are you saying the three most important words in fundraising: because of you?
Click To Tweet