A guest post by Jeff Porter of Handbid
Nonprofit trends have changed dramatically in recent years. A few event types consistently prove to be successful for earning donations and long-term support. Silent auctions are particularly effective for getting the word out about your cause to your audience. This includes your current supporters, new donors, and potential business partners.
Silent auctions have several moving parts, making them more complicated than other fundraisers. With the right auction software, auctions can reach supporters in ways other fundraisers often struggle to do. After all, few other fundraisers offer donors something in exchange for their contributions.
To show how effective auctions are, this article will cover three ways they can help your nonprofit:
Engage donors in a memorable event.
Attract new audiences.
Create connections with local businesses.
Engage donors in a memorable event.
Browsing auction items, bidding, and winning a prize is outright fun for your donors. At the end of the night, many of your guests will go home with a physical reminder of your event. Supporters who talk about their prizes with their friends and family will likely mention where they won them.
Handbid's silent auction guide recommends procuring prizes that are experiences. This could include classes, vacations, or small day-out prizes like a massage or spa trip. While these prizes aren't physical reminders, supporters will need to redeem them later. This means the auction they won them from will stay on their minds.
The only catch for creating a memorable experience is intertwining your nonprofit with your auction event. Some supporters may share with friends and family that they had a good time. Unfortunately, they might not remember what cause their bids supported. You can get ahead of this problem by educating supporters on your mission through your outreach and the event itself. This applies to announcements, printed handouts, and thank you emails.
Attract new audiences.
Silent auctions give supporters a new reason to donate. Unique auction items might attract supporters who hadn't considered giving to your cause. Silent auctions are also super flexible in how they can be run. Their format allows for in-person, online, and hybrid events, which all can attract new supporters:
In-person auctions appeal to local community members who live close enough to attend. At in-person auctions, you can solidify your connections with long-term local supporters. Don't forget to also welcome new supporters who have recently moved to your community.
Online auctions allow your nonprofit to connect with supporters all across the country. Virtual events have risen in popularity because of their global reach and lack of venue and catering costs. Online auctions can last for several days, so more supporters can discover your auction and cast a bid.
Hybrid auctions engage your local supporters, your remote supporters, and anyone who prefers to attend from home. These events allow supporters to decide how they engage, letting them choose how and when they interact with your nonprofit.
Auctions can help your nonprofit excite both new and current donors by marketing high-value and unique items. The chance of winning something can be as much of a reason to attend as the opportunity to support your cause.
Create connections with local businesses.
Your nonprofit will need to get auction items from somewhere. This makes auctions a great opportunity to reach out to local businesses. Bear in mind that not every connection will lead to a corporate sponsorship. 360MatchPro's guide to corporate philanthropy points out that many businesses support charitable causes to improve their image and attract new customers. In other words, they have good reason to support your nonprofit—you'll just need to do a little work to point it out to them.
Contacting businesses is a multi-step process. Not to mention, acquiring a full item catalogue can take months. Here is a breakdown of how your procurement team can start reaching out to businesses:
Create a list of potential business sponsors. Your team will need to research local businesses that cater to your audience. Then, create a list of potential partners. Likely candidates are businesses that have supported similar events, are doing well financially, or offer a product or service related to your nonprofit or event. Ideal partners will fit all three of these criteria.
Reach out to middle and low-priority businesses. With practice, your team will get better at appealing to businesses. Start with lower priority business partners. Your team can refine their approach without the stress of talking to one of your dream partners.
Follow up and thank businesses. After your event, follow up with a sincere thank you. Mailing thank you cards shows your nonprofit's dedication to your professional relationships. Calling them on the phone after your event to thank them can open the door for future collaborations.
Remember that some businesses will prefer to support your event in different ways. Some might donate items or offer them at reduced prices, while others prefer to make a cash donation. No matter how they give, be sure to tell them thank you.
---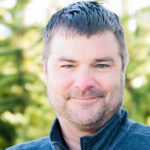 Jeff Porter, Founder & CEO of Handbid, has spent 18 years in the non-profit industry. In 2004 he founded the Prader-Willi Syndrome Association of Colorado where he still resides as board chair.
Jeff learned early on that non-profits desperately needed better and more affordable fundraising solutions.  Leveraging his software background, he built most of the tools his charities used, and in 2011 he launched Handbid at his own fundraising event.  The goal was to improve the guest experience, reduce administration and increase revenue.  Handbid accomplished all of those goals, effectively doubling revenue in its debut. Nine years later, Handbid's suite of tools has delighted over a half-million guests, generated millions of bids, and helped thousands of charities raise well over $100 million.