A guest post by Elena Stewart
Every year, countless people decide they want to start a nonprofit as a way to bring positive change to their community. However, not everyone pushes through with their good intentions. Looking for insight on getting started? You've come to the right place!
It Starts With Research
Your very first step is to determine how your nonprofit idea can benefit your community. Do the research first, and the rest of the process will fall into place. The National Council of Nonprofits suggests going about it by identifying supply and demand like you would if starting a for-profit business.
Next, identify your target demographic. This will guide your content and help you choose which tools to decide when promoting your organization.
You will also want to look into the best business structure. As a nonprofit organization (NPO), you have options. You might operate as a sole proprietorship or, in some cases, an LLC. If you choose the latter, pay close attention to the legalities, and know that your nonprofit must register as a 501(c)(3). Any assets collected must also be earmarked for charitable donation should your LLC dissolve.
Foundation Building for Your New Nonprofit
Now that you have defined your objectives and have handled legal matters, it's time to build a solid foundation. A successful nonprofit will consist of many people, including board members and volunteers. You can even have paid employees, although Patriot Software cautions you to pay close attention to your pay structure. NPO employees can't be paid a commission based on the money they raise.
If you haven't yet, write a business plan for your nonprofit and share this information with your staff and volunteers. You will also need to file as a tax-exempt organization and, ideally, appoint one person to handle your tax filings. This individual's work should be double-checked for accuracy and omissions before being submitted.
Fundraising
Fundraising is the backbone of most charitable organizations. Although your plan is not to profit from your efforts, it takes money to do good.
One approach is event fundraising. Decide the types of events that you'd like to host. This could be anything from selling logo clothing to partnering with local restaurants for a "spirit night." You can also get your community involved by issuing challenges where teams pay a fee to compete in activities, such as community cleanup or stocking food pantries.
Keep in mind here that, depending on the type of event you have planned, you may be required to obtain a special license or permit, particularly if you plan to serve alcohol or host a raffle drawing as part of your fundraising campaign.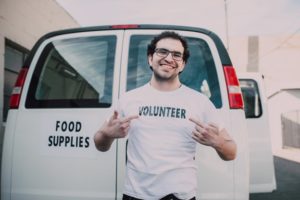 Ongoing Accountability
As the head of a fundraising NPO, you're also expected to provide annual reports to the government, as well as your Board of Directors each year. Make sure that you keep up with all of your fundraising events, donations, and outreach efforts. Don't forget about in-kind donations, which are those that do not involve cash but, instead, a donation of goods or services — often in exchange for visible recognition.
Keeping accurate records is paramount to the ongoing success of your nonprofit as it increases trustworthiness and can streamline the audit process if the IRS comes to call.
There are many other subtle nuances to launching a not-for-profit endeavor. It's hard work, but the return is worth far more than a corporate job could ever offer. Good luck with your efforts, and know that the work you do today will have a lasting impact.
If you're looking for a marketing partner for your NPO, Communicate! Consulting is the service for you. From demographic targeting to crafting content that matters, Dennis Fischman is your go-to expert. Call 617-501-6219 today.
---
About the author: Elena Stewart made the jump from a corporate job she wasn't entirely happy with, to running her own business that gives her the financial freedom and flexible lifestyle she's always wanted. As a life coach, she now gets the happiness of helping others get to the places that might seem out of reach.