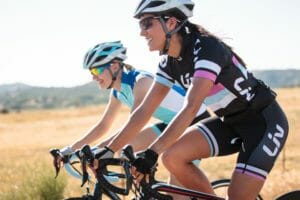 When you think about creative ways of thanking your donors, take a lesson from my wife. Rona runs a real estate company, not a nonprofit–but she understands how to make friends for her organization. She stresses what they share.
A lot of Rona's home buyers care about housing for all. That means Rona supports groups like the Somerville Homeless Coalition. She truly cares, but her gift lets her clients know she cares, as they do.
A large number of Rona's clients are cyclists. That means Rona posts news about bike trails and biking to work on her company's Facebook page. It's not strictly about real estate? That doesn't matter. It shows clients that she understands them and appreciates the things they appreciate.
Your nonprofit can do this too. And you should.
What Your Donors Love, Besides You
There's a saying, "People give to people." That can mean they give to help people (not organizations). True. It can mean they give because a person they know asks them to give. Also true.
But the most important thing it means is that your donors have to know, like, and trust you if they are ever going to become to your loyal supporters.
They have to think, "That organization includes a lot of people like me."
So, your job is to find out what counts as "people like me"–and show that they are right. Your organization does include people who care about more than just one thing. You and the donors have a lot in common. Share that!
Get to Know and Love Your Donors
How do you actually find out what your donors care about? A few good ways:
Asking them. You can do this whenever you have a conversation with a donor and make a note of it in your files. Or, you can make a more organized effort, using surveys and focus groups. Do it gradually if you have to, but keep on asking.
Social listening. Set up Google alerts for the internet, and set up lists and use tools on social media, to find out what your donors talk about a lot, and what they love and hate.
Analytics. You can use the built-in tools on Facebook or Twitter to learn a lot about your audience in general, and that will give you some clues about your prospects and current donors, too.
Once You Know Your Donors, Share that You Care
With the results of your conversations, surveys, focus groups, searches, social listening, and analytics in hand, you probably know a lot about your donors! And now you can do what Rona does.
Example: Are you a healthcare organization with a lot of supporters who care about the environment?
Put an ad in the program of the local environmental group's event.
Find ways of working together to make the community a healthier place to live.
Let your donors know you did, because it matters to you too.
And in your newsletter, email, blog, and/or social media, you can not only publicize your donations to and collaborations with environmental groups. You can regularly include articles about environment and health.
Showing your donors what you share is another way of thanking them for their gift…and making it more likely that they will give again.