A guest post by Karen Houghton, Infinite Giving
What happens to your estate after you die? For many nonprofits, this can be a difficult conversation to bring up with donors. But it's also one that's critical—both for the long-term financial health of the nonprofit and to establish a thoughtful legacy for donors.
Legacy giving, also known as planned giving, refers to donations that supporters arrange to go to your nonprofit after their passing. In this guide, we'll break down four simple ways to encourage legacy giving among your donors, including:
Explain the benefits.
Offer gift options.
Market your legacy giving widely.
Show your gratitude.
Before you start
Before diving in, take time to assess your organization's current tools and processes as well as your capacity to develop your legacy giving program. 
While a legacy giving program is in reach for nearly every nonprofit, it may take different forms depending on your organization's size, donor interest, staff availability, long-term planning, and resources. According to Infinite Giving's guide to nonprofit reserve funds, developing clear fundraising goals and investment plans will save you money and time in the long run.
Explain the benefits.
While donors make donations to support your positive community work, they generally aren't entirely selfless. Donors have a range of reasons for making a gift—especially if it's a large one. Because of this, part of encouraging these legacy donations is communicating to donors exactly how their contribution will benefit them and their interests. Share the following primary benefits of planned giving:
Building a legacy. As the name suggests, legacy giving can offer donors a chance to be remembered and celebrated for their generosity as your nonprofit honors their contribution in events, speeches, programs, scholarships, or buildings.
Earning significant tax breaks. As with other donations, planned gifts can be deducted from your donor's annual taxes, providing a financial incentive.
Controlling where their donation goes. Generally, with average donations, donors tend to give to the organization's annual fund and have little control over how the nonprofit uses their contribution. However, funds given through wills can include specific guidelines and restrictions that nonprofits must follow.
Additionally, you can share how these legacy gifts will promote your nonprofit's success. Show potential donors exactly how their gift will aid your organization, support your fiscal stability, and help you plan for the future.
Offer gift options.
Within the category of legacy giving, there is a range of options beyond cash gifts. By making these options clear to donors, you allow them to make a planned gift in the way that best fits their lifestyle and interests. Offer legacy giving options, including:
Bequests. Donors list your nonprofit as the recipient of specific funds, stocks, art, or a percentage of an estate in their will.
Life insurance. Donors name your nonprofit as a beneficiary of their life insurance policy.
IRAs. Donors name your nonprofit as the beneficiary of their employer's retirement policy.
Charitable gift annuities. Donors donate a sizeable monetary gift, and the nonprofit provides them a fixed income for the rest of their life.
Retained life estates. Donors gift property to a nonprofit but retain the right to use it during their lifetime.
Endowments. Donors can create a named endowment fund, seed it while alive, and add to it upon their passing. It's a gift that can live for generations to come and gives back to their favorite nonprofit year after year. Endowment creation also helps with the difficulty of legacy giving conversations. It's not just about what donors do when they die, but the legacy they want to create today.
Ultimately, your legacy giving program will be most successful when you ask your donors what works best for them and tailor the experience around their needs.
Market your legacy giving widely.
The planned giving process is deeply personal, but you can still sensitively promote it as an option to supporters. To reach as many donors as possible, use multiple channels of communication, including:
Website
Brochures
Emails
Personal letters
Direct mail
Social media
Google Ads
In many cases, you can leverage free and low-cost tools to spread the word about your legacy giving program. For example, according to Getting Attention, Google's Ad Grants program "provides eligible nonprofits with $10,000 per month to spend on [digital] ads."
Even as you promote your program widely, you can still make these promotions feel personal with customized appeals based on your target audience. Leverage the data in your database, including names and previous engagement with your organization, to directly address potential donors. In each appeal, share ways they can learn more, as well as a custom link for those ready to start the donation process.
Show your gratitude.
Thanking and acknowledging a donor's legacy is an ongoing process that should consist of more than a single expression of gratitude. In addition to the customary follow-up emails post-donation, communicate your appreciation for legacy donors through:
Phone calls
Spotlights in newsletter or website
Handwritten letters
Donor walls
Named scholarships
Galas and VIP events
Across your communications, make sure you express how grateful you are for donations and remind donors of the impact of their gift with a combination of statistical data, relevant anecdotes, and real-time updates.
Use good tools
To track, plan, and solidify legacy giving opportunities, your nonprofit will also need dedicated tools to manage the journey of your planned giving donors—from your prospect research to your thank-you messages. Look for software that allows you to:
Locate new legacy giving prospects.
Track planned gift conversations and opportunities.
Advertise and accept planned donations.
Send automated communications.
Show the impact of their donation.
Powerful tools will simplify your back-end process and allow you to focus on developing strong relationships, growing your planned giving program, and raising money for a sustainable future.
---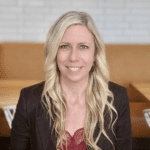 Karen Houghton, CEO and Founder of Infinite Giving
Karen Houghton is the CEO of Infinite Giving, a relationship and technology driven Nonprofit Investment Advisor. Karen leverages her deep nonprofit expertise to bring a modern and curated investment experience to nonprofit organizations all over the US. She advocates for organizational sustainability through better financial management, strategic access to curated investment practices for reduced management fees, and increased asset giving.