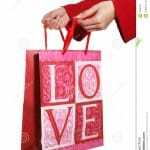 Can you write a thank-you letter so personal and so memorable that the donor will want to keep it forever? Yes, it's possible. But some of us are better shoppers than we are writers. Why not give a gift bag, too?
I agree: you can't buy gifts for every single donor. It would take too much time and cost too much money.
Imagine, though, the amazement that would spread across your selected donor's face when you presented gifts chosen especially for him or her!
The Most Personal Thanks You Can Give
It's not how expensive a gift you choose that shows your donor how much you appreciate her. It's the way the gift uniquely fits them.
My wife Rona and I have been going to the same doctor for twenty-five years, and every time we go, we chuckle at the classic posters on the walls. They say things like "Dr. Tanner's Tonic Tames the Nerves," or "Drink Coca-Cola to Calm Your Stomach."
We appreciate the humor–from a doctor who keeps up with the latest medicine! So, when Rona and I were on vacation and saw a $9 book full of that old-style advertising, we had to buy it for Dr. Bershel. We wrapped it up with a bow, stopped by her office, and left it for her.
The doctor left us voicemail AND sent us a card to tell us how excited she was by the gift. "I'm going to blow up some of the pages in that book and make them into new posters!"
It didn't cost very much, but to her, it was priceless.
How to Give Thanks in a Gift Bag
If you want to make a donor happy the way we made our doctor happy, you'll need two things.
First: know your donor.
Find out what he or she really likes. Ask your staff and Board members, "Who knows this person?" And do your research online. Finding out their favorites may be as simple as visiting their Facebook page.
If they have a taste for something unusual, even better! Giving a "cat person" a gift for their cat is easy: there's cat merchandise everywhere. Giving a ferret fancier a gift card for The Book Ferret…now, that shows that you have really noticed who they are (besides a checkbook).
Second: know who will find a gift they like.
If you are the letter writer and not the shopper in your office, delegate this task. Perhaps your agency does a Secret Santa or a Yankee Swap. Who is it that always looks forward to it and always comes up with the best presents?
Ask that person if you can send them on a very important mission–and give them the budget to do it. Let them do it on their own schedule, because the donor is not expecting it, so there is no deadline.
For the person who enjoys shopping, the chance to put together a thank-you basket for your donor won't be a burden. It will be a gift!