My wife and I decided years ago that Valentine's Day is for suckers.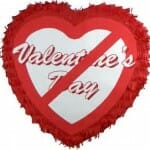 Think about it. This week, candy and flowers will cost more than they do any other time of the year. Restaurants will push special meals with more food than you can eat and more expensive wine than you would choose.
Businesses make big bucks because people think putting out a lot of money one time a year is the way to show their love.
Rona and I are romantic, but we are not suckers. The ways we show our love all year round count more than what we do one day a year. And we do not let Hallmark tell us when to say "I love you."
But what about your nonprofit?
The calendar may be playing you for a sucker, too.
Are you ignoring your donors all year round until the day you send them an "annual appeal"?
Are you then expecting them to show you the love on December 31, just because in the U.S. that's the last day to get a tax deduction for the year?
Lots of nonprofits work hard on making that appeal letter just right, as if it were a Valentine's Day bouquet. But you can't neglect your donors all year and expect one romantic gesture to make it all right. Click To Tweet You have to show some donor love all year long.
Here's a plan to make your donors love you in just one year. No, it's not candy and flowers! Good relationships take good communications.  I'll help you figure out where you can spend your nonprofit time and money that will matter most to the donor.
Because that's what you want, right? Not to do the same tired things the same time of year. You want every day to be Valentine's Day for your donors and you.
(P.S. Chocolates will go on sale February 15. Just wait.)