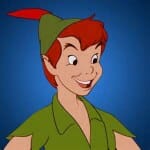 "If you believe," he shouted to them, "clap your hands; don't let Tink die."
What can children's books and their big cousins, YA fiction, teach us about telling our companies' stories?
Start with an improbable hero.
Give them a challenge.
Show their character.
Give them helpers.
Bring the reader into the story. J.M. Barrie did that overtly in Peter Pan.
Want more details on what nonprofits can learn from Peter Pan?  Read my guest blog at Nonprofit Media Solutions.
When you write newsletters, appeal letters, blog posts–even Facebook posts and tweets–how do you make your supporters into the hero of the story?