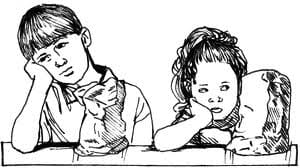 If you're a nonprofit organization, blogging is the backbone of your content marketing.  You want people to seek you out–to look to you for expert knowledge and unique insights.  Your blog is where they find what they're looking for.
But are you getting bored with your blog?
You can't excite people if you're feeling deadly dull.  If it's a chore for you to write, it won't be any fun for your readers to read.
Don't stop blogging–but there are lots of other ways to do content marketing.
26 Ways to Share Content with Your Readers
Joe Pulizzi of the Content Marketing Institute lists:
Social media–other than blogs
Articles on your website
E-newsletters
In-person events
Case studies
Videos
Articles on other people's websites
White papers
Online presentations
Webinars/webcasts
Infographics
Research reports
Microsites
Branded content tools
Mobile content
Print magazines
E-Books
Books
Mobile apps
Digital magazines
Podcasts
Licensed/syndicated content
Virtual conferences
Annual reports
Print newsletters
Games/gamification
If you're tired of writing short, snappy pieces, then write a white paper or report.  If you'd rather talk than write, then the in-person appearances or the podcasts might be perfect for your personality.  Maybe you'd rather shoot photos–or make videos–or design a game.
Does that get your juices flowing?  I'll bet you can even think of other content if you try. I thought of comics and graphic novels.  What would you add to the list?