When your nonprofit speaks, do the people in your audience say, "They're like us?" Or do they say, "That group doesn't speak our language?"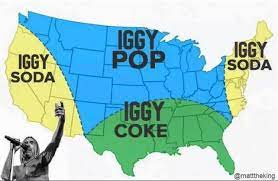 Little turns of the phrase can make all the difference.
I grew up in Pittsburgh, PA, where the carbonated stuff you buy in bottles was called "pop." It had nothing to do with the performer Iggy Pop. It was just a drink.
To my surprise, when I moved to New England, people were calling it "soda," a word I'd only ever heard after "baking," or before "fountain." And Coke was a brand name. Pepsi could not be Coke.
Obviously, I wasn't from New England. Or the South!
Language differences are not just regional
Pop, soda, coke: all of these are English. All are proper English, somewhere in the U.S. But the U.S. is not the only place where people speak English. George Bernard Shaw is supposed to have said, "England and America are two countries separated by the same language." If you don't believe him, ask a Brit and a Yank what a rubber is.
I read a lot of British murder mysteries, and I pride myself on understanding the King's English. Recently, though, I finished an Inspector Rebus mystery set in Scotland, and I had to keep looking up words and phrases. How they say it in London and in Aberdeen may be two different things entirely! (Not to mention Melbourne or Lahore.)
Language differences are not just geography
Even people who live in the same geographical area may hear a phrase and react completely differently.
The actor Jamie Foxx didn't mean anything wrong when he tweeted about #fakefriends and said, "They killed Jesus, what do you think they'll do to you?" As an African American, he was just using a common phrase to express how untrustworthy people can be.
Unfortunately, white Jewish people and their allies heard that phrase with an entirely different inflection. Outside of the Black community, "They killed Jesus" has been used by Christians for centuries as an accusation against Jews. It has led to pogroms and slaughters.
When white Jews called Foxx out, many Black Christians could not understand how his phrase could ever be antisemitic. Many white Jews could not understand how it could be anything but. (And a lot of Black Jews were stuck in the middle, which happens way too often!)
That's why you have to know your audience
Nonprofit organizations cannot say everything in a way that everyone will understand the same way–at least, you can't and still say anything interesting! So, what's nonprofit to do?
Know your audience.
You are not writing to everybody. There's either one specific audience that's interested in what you do, or there might be a few. In either case, you need to be able to picture the people you're writing to, hear how they talk, and speak their language.