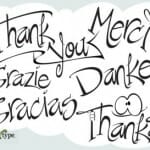 If you work for a nonprofit organization and you're sending out a thank-you letter that sounds like a tax receipt, stop!
Find your most memorable story. Put it in your thank-you letter.
Why? To find out, read Say "Thank You" with a Story, a guest post by me on Tripp Braden's blog.
The key point? "People will thank you for your thank-you. They'll remember your story. And they'll give to you again."
Read Say "Thank You" with a Story and rewrite your thank-you letter today!