At your nonprofit, does every staff member know how to communicate with donors?
Donor communications are the "customer service" of the nonprofit world. Show the donors the love and they will keep coming back to support the irreplaceable work you do. But treat them badly, and you are treating your clients badly, too, because you will run out of the money your programs need.
What does good customer service look like at a nonprofit organization?
Click To Tweet
If you've been reading this blog for a while, you know that my wife, Rona, has experienced some bad customer service.
She's received mail at an address she never intended to share.
She's been lied to by people who tied to sell her their services (and then wondered why she wasn't interested).
On Election Day, she's been called by volunteers who had no idea why she should vote for their candidate. (They should have had better training!)
Let me tell you a story about Rona and good customer service that nonprofits can put into action.
When You're Wrong, Apologize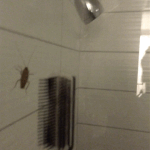 Rona went to a professional conference in Arizona. Over the course of a four-night stay, as she tells the story:
I couldn't sleep until 3:30 AM (which was 5:30 according to my body) on the first night.
It seemed like I lugged my bags a mile to get to my new room.
I didn't get the room I asked for– and was promised — after the sleepless night.
I had to move my room again on night three, due to a broken pipe that flooded my room.
A door fell off (possibly my fault, but I am not all that strong).
I met my first (and I hope, my last) desert cockroach.
The hotel could have turned Rona into a voice for never holding that conference at that hotel again. All they had to do was treat her as the problem. (As so many businesses seem to do with dissatisfied customers!)
Here's what they did instead, and I'm quoting directly from their email:
Good Morning Rona,

I am sorry to hear of the additional issues you experienced last night after you changed rooms from 5100.

I have to say, if I were you, I would be extremely frustrated and if you are, it's OK with me.  What's not OK with me is if you were charged full price for all of the issues you have experienced. 

In addition to my apology, I have posted a credit to you're [sic] account in the amount of $300 + taxes.  It's very uncommon for the types of issues you have experienced to occur, let alone happening all to the same person. 

I promise that we can do better and if you would like to consider a gift certificate to return and have the real Saguaro experience in the future, please let me know.

Sincerely,

Alfredo Anguiano

Assistant General Manager
When the Donor Has a Problem, Fix It
Now, you might be saying to yourself, "What could we possibly do to a donor that they would lose sleep over?"
I hope you are not letting any cockroaches crawl into your envelopes! But short of that, and unfortunately, nonprofits are doing plenty of things that make donors feel mistreated. Are you…
Calling your donors by the wrong name, or by no name at all?
Taking weeks or months to get around to thanking them?
Thanking them and asking them for a second donation in the same letter (the dreaded thask)?
Using their money for a different purpose than the one that was their reason for giving–and not even letting them know?
Taking the money and not saying anything about how you're using it, or what impact they're making, until it's time to ask for more?
If your nonprofit is doing any of this to the donor, the best case is that she will call to complain. (Yes, that's the best case! The worst case is that she will go off fuming into the sunset and you will lose a good donor forever.)
When Donors Complain, What Staff Should Do

As Claire Axelrad says: A Donor Complaint is a Terrible Thing to Waste.
A complaint is a signal that the person who's calling cares deeply about your organization. You need to be prepared to respond to that signal.
The person who takes the complaint phone call may not be a development person. She may be a receptionist or just a random staff member who happens to be answering the phone. But everyone on your staff should be trained in what to do.
And what not to do! Quoting Claire again:
You know, that tendency we have to put down the phone after dealing with a difficult person and then launch into a barrage of derision for that person? This breeds contempt for complainers and creates a culture of condemnation rather than gratitude.

Fix the Problem, Don't Spoil the Fundraising
There's a difference between responding to donor complaints and being afraid of them. If you have a large enough pool of donors, you must expect complaints. If you're doing fundraising effectively, it will sometimes puzzle or even annoy people who don't know how fundraising works.
They'd be more annoyed if you closed your programs for lack of funds!
Jeff Brooks rightly says:
It's important when dealing with complainers to be thankful. This person cares enough to communicate with you. She's giving you a chance to serve her better and turn a negative feeling into a positive experience. Find out exactly what she wants — and do it.

But don't change your entire program to fit the demands of a complainer.  Follow the much larger voice of those who donated.  Make it work for them!