I heard this story from Michael Rosen.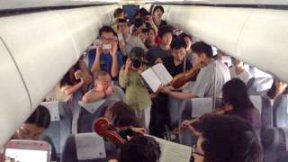 The Philadelphia Orchestra was sitting in a plane that was stranded on the runway–in China. They and their fellow passengers would not be able to take off for hours.  Fume? Fret?  No.  Four members of the Orchestra's string section unpacked their instruments and right there in the plane, they performed Dvorak's String Quartet No. 12, subtitled "American."
I think we would all agree, that was great communications!  But why?  It's not only that the Orchestra knew their mission (to create good feeling about the U.S. through music).  It's even more than what Michael Rosen points out: that they saw their opportunity and they took it.  What really marks this a success?
For great communications, use what you have.
If you have an orchestra, play music.
If you have a telescope, invite people to gaze at the stars.
If you have inspiring young leaders, let them talk.
I know that a lot of important work has its boring side.  Don't get caught up in that.  Find the part that will be fun to talk about, to listen to, to show off or to watch and then share it. Use what you have.