A guest post by Howard Gottlieb at Read-A-Thon
From bustling 5Ks to complex community events, you've probably run into the same handful of results when searching for profitable and effective fundraising ideas. Yet while these fundraising events can be very engaging and lucrative, they're simply too involved and need too many hands for your small fundraising team to host.
If you've found yourself stuck in this dilemma—looking for great fundraisers that can be pulled off without many volunteers or event organizers—then this list was made with you in mind. Whether you're a young team just starting your nonprofit or a small but ambitious group of PTA fundraisers, teams of any size, budget, or cause should find a solution that suits their needs among these top fundraising ideas:
Read-a-thon Fundraisers
Google Ad Grants Program
Virtual Merchandise Fundraisers
Matching Gift Fundraisers
Virtual Workshops & Classes
1. Read-a-thon Fundraising Events
Read-a-thon campaigns are an incredibly popular idea for K-12 organizations and can be especially effective for teams who engage with young, developing minds. That being said, read-a-thons can be applied to any organization interested in an educational fundraiser.
Like most a-thon events, read-a-thons are like any peer-to-peer campaign where participants share their donation pages to gain support for a target activity—and in this case, that target activity is reading. But unlike many other campaigns, read-a-thon fundraisers can be managed by a mere handful of campaign organizers, with marketing, communications, and the management of your campaign easily accessible through your online fundraising tools.
For best results, consider investing in a read-a-thon platform. With an affordable, dedicated read-a-thon fundraising solution, you will have access to:
Integrated marketing tools
Easily customizable fundraising pages
Data and reporting features
These tools and the remote capabilities of a read-a-thon fundraiser should allow your small team to handle the entire campaign with relative ease and potentially raise thousands of dollars!
For more information on read-a-thons and other simple, effective fundraising ideas in the educational sector, explore Read-A-Thon's list of 50+ Elementary School Fundraising Ideas.
2. Google Ad Grants Program
The Google Ad Grants program gives eligible nonprofits the chance to obtain $10,000 a month to put towards ad credits on the Google search engine. To be considered for this program, applicants simply have to:
Hold an official 501(c)(3) charity status.
Agree to Google Ad Grant's terms of service, conditions, and certifications.
Host a functioning, valuable website adhering to Google's website policy.
Secure a website SSL certificate.
If your organization meets these standards, then you could very well have access to thousands of dollars in Google Ad Grants to raise brand awareness, revamp your online presence, and attract a vast number of new donors.
3. Virtual Merchandise Fundraising Events
Online merchandise sales are not only a profitable, year-round fundraiser, but they're also surprisingly easy to set up through your website, a merchandise service provider, or a merchandise fundraising platform.
Here are some of the most popular, top-selling items for these kinds of fundraisers:
T-shirts, jackets, and hoodies
Mugs and water bottles
Tote bags and backpacks
Once you've decided on your merchandise, be sure to brand these items to your organization. Every time a donor wears or uses them, they'll be marketing your brand to family, friends, and onlookers.
Additionally, Bonfire's guide to designing and selling custom apparel offers these tips to ensure your merchandise sale is as successful as possible:
Before creating your merch, identify your audience, their tastes, and their interests.
Determine the most effective messaging and marketing channels for your audience.
Draw design inspiration from past branded materials, new design trends, and popular styles.
Once you have a firm grasp of what marketing strategies your audience responds well to and what they would genuinely want to buy, your merchandise should practically sell itself.
4. Matching Gift Fundraising Events
Did you know that an estimated $4 to $7 billion in corporate matching gifts goes unclaimed every year? A matching gifts fundraiser can help you to take advantage of this untapped well of potential donations and easily maximize revenue.
The great thing is that donors' employers already have submission systems in place through which many donors should be able to get their gifts matched. Your main job is to promote matching gift opportunities so that your donors know that they could easily be giving double or triple the support to your organization without spending another penny.
To drive more traffic to your website, your donation page, and employers' matching gift request forms, you could:
Integrate your website with social media, posting information about matching gifts and links to your donation page
Include promotions about matching gifts in your post-gift acknowledgments and other email communications
Integrate a matching gifts database into your donation form, streamlining the entire matching gift request process
These strategies should keep your donors educated about matching gift opportunities and encourage them to take that extra moment of time to submit a request and expand their support.
5. Virtual Workshops & Classes
As remote work and digital engagement increase, many donors are going a bit stir crazy, spending much of their time at home, on their devices, and looking for fulfilling activities. This is part of what has made virtual classes such a popular choice for many fundraising teams.
Streaming an online class is not only a great way to remotely engage your donors and increase donor affinity for your organization, but it's also an especially easy event to host. All you have to do is choose a topic, select an instructor, organize your agenda, promote your fundraiser, and charge a small admittance fee for attendees to get the stream link.
Take a look at just a few class, webinar, or workshop ideas that you might use to attract interested supporters:
Painting, drawing, and crafts. These art-based class topics are a favorite among various age groups, working both as a fun online school fundraiser or a relaxing paint-and-sip for adult donors.
Dance and fitness. Promote health and physical activity with a dance, yoga, or fitness workshop. This can be a one-off beginner's class or part of a recurring series.
Professional development. If you'd like to take a more serious approach to your online class, you could conduct a book discussion, an educational webinar, or a lecture about a professional topic that you think your donors would find interesting.
To maximize revenue and increase marketing and engagement potential, you might even partner with a local business or instructor that specializes in your workshop's topic or activity.
As a smaller, newer, or more local fundraising organization, it can often feel as if you're at a disadvantage in terms of your ability to effectively fight for your cause. However, while you may not have the same access to campaign resources or volunteers, these simple, manageable, and effective fundraising ideas should lead you in the right direction towards fundraising success!
---
HOWARD GOTTLIEB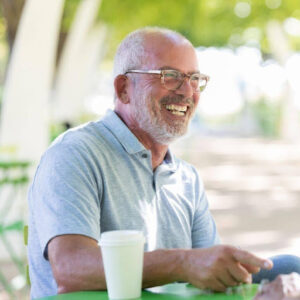 Founder and CEO, Read-a-thon Fundraising Company
Howard Gottlieb has been a serial entrepreneur for more than 35 years. His latest venture, Read-a-thon, is a novel school fundraising concept that truly shifts the paradigm when it matters most. Read-a-thon replaces in-person bake sales, magazine drives and the like with a contactless method of raising much needed cash, one that can be used both in real classrooms and virtual learning spaces. The real bonus? It promotes literacy and gets kids excited about picking up a book.