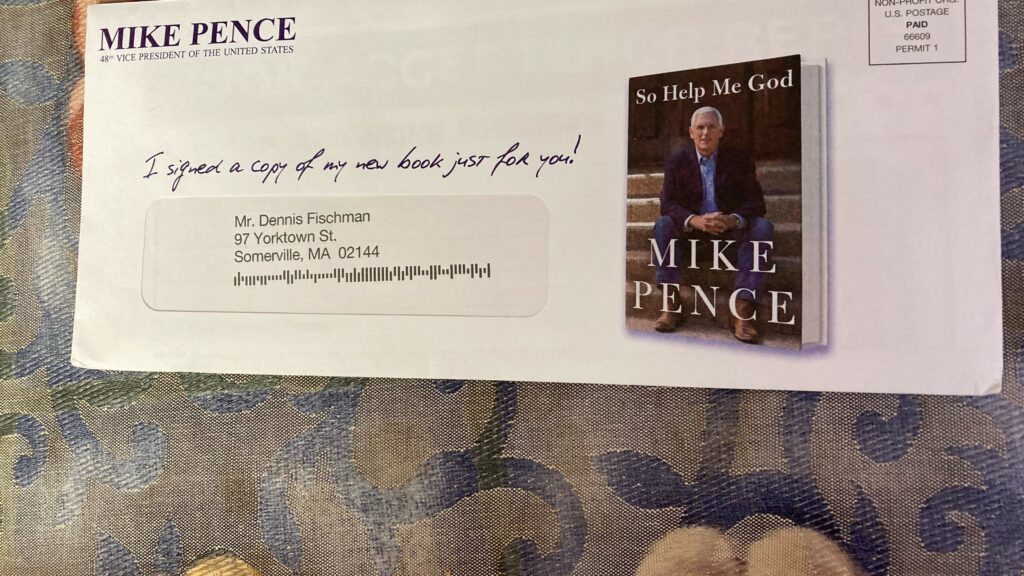 When you're raising money, you must know your audience. Click To Tweet Mike Pence, the former Vice President, didn't know me at all.
Okay, I'll admit he knew me well enough to know that I'm an inveterate reader, with close to 2000 reviews on Goodreads. (Or maybe, he just got lucky.)
But when Pence sent me a letter in the mail and the envelope said, "I signed a copy of my new book just for you!", he lost me. Why?
I'm the kind of voter who hardly ever voted Republican before Trump, and never since.
I thought Pence was a nonentity before becoming Veep and a bootlicker during his term of office.
The only good thing Pence did as Vice President–refusing to collaborate with the seditious conspiracy to eliminate rule by the people in the U.S. and install an unelected President–was his simple duty. Anything else would been a crime.
You don't have to agree with me (although I hope you do!). What you should see is that sending this mailing to me showed me:
He didn't know me.
He lied when he implied he did.
He was wasting money by targeting an audience he was never going to reach.
Is Your Nonprofit Making Mike Pence's Marketing Mistakes?
You may have many mailing addresses in your database or CRM. Great! But what do you know about the people at those addresses?
Are you calling them by the right name?
Are you writing to them about something that would interest them, not your Board or your program staff?
Have you segmented your list so that different groups hear about different topics?
Are you adding names only with permission? When people ask to be removed from your list, do you comply?
Please don't make the Mike Pence mistakes. Yes, I do mean "Don't support Trump" or the movement to end democracy in this country–I'm not going to lie!
But even if you and I completely disagree on politics, we can agree that wasting your nonprofit's money on mailings to the wrong people is a mistake, a bad idea, a step in the wrong direction. If you believe your organization is doing good work, ruining your reputation like this is a sin.
So Help Me God.