We will get back to our series on great appeal letters next Tuesday. Today, think about fundraising systems with guest blogger Joe Garecht.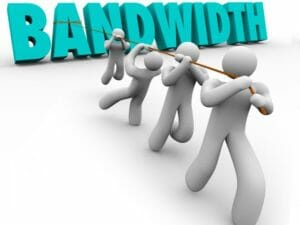 Working in development for a small non-profit can be tough.  Your organization is doing great work, and you've got lots of great ideas for raising more money… but there's never enough time, staff, or money in the budget to do all of those things.
As a small non-profit, it is important that you honor the bandwidth of your organization.
"Bandwidth" is my term for the limited amount of time, money, and energy that your non-profit has to offer for development.  Every organization has a limited bandwidth… even large, national organizations that have 35 fundraisers on staff can't focus on a plan that would require 50 fundraisers to implement.
Your non-profit has a limited amount of time and money to spend on fundraising, and that's okay.  If you consistently try to spend more time, money, and energy on fundraising than what you have available, it will lead to burnout, excessive staff turnover, and a budget that is stretched razor thin.  So, honor your bandwidth.  Know what your resources are and develop a plan that can operate within the constraints of those resources.
There are lots of great ways to get more bang for your buck when it comes to those resources.  It is possible, with the right strategy, to get a higher return on investment for the time and money you spend on your fundraising programs.  In my experience, the best way to be able to do more with your limited resources is by building strong fundraising systems at your non-profit.
What is a Fundraising System?
When I talk about "fundraising systems" for your non-profit, I'm not talking about your donor database or any other technology that you use in fundraising.  Those systems can play a vital role in your fundraising program, but they're not the type of systems we are talking about here.
Instead, I'm talking about donor fundraising systems: step-by-step processes for interacting with donors, building relationships with them, and asking them for money through things like personal meetings, appeal letters, events, and more.
Fundraising systems will help you do more, with less, because they help you avoid reinventing the wheel every time you deal with a new donor.  Instead of wondering how to cultivate a new prospect or follow-up from a stewardship event, you will have a system in place that you can use, with materials and scripts already prepared in advance.
While there are lots of different types of fundraising systems you can build at your non-profit, the most important are those that related directly to the donor life cycle: prospecting, cultivation, asking, and stewardship.  The systems you build should fit within the constraints of your non-profit's fundraising bandwidth… meaning that you shouldn't plan to do more than you really can in terms of budget, staff, time, and energy.
What Does a Good Fundraising System Look Like?
You may be wondering what a good fundraising system looks like.  Simply put, a good fundraising system is a path for your donors, based on where they are in the donor life cycle.  Your systems answer questions like:
What 2-4 ways are we going to find new prospects this year?
What 2-4 ways are we going to cultivate our prospects this year?
How are we going to ask donors for money this year?
What 2-4 ways are we going to steward our donors this year?
Notice that in the list above, you keep seeing the numbers "2-4."  That's important, because most small non-profits are trying to do too much when it comes to individual donor fundraising… and as a result, they aren't doing any of those things well.
Instead of constantly adding new strategies for finding donors, cultivating, and asking them for money, focus on 2-4 ways to do each.  Then, commit your organization to executing on those 2-4 strategies to the best of your abilities this coming year.
Different Paths for Different Donors
In developing your fundraising systems, you'll want to be sure to include different paths for your different donor segments.  For example, in your donor cultivation system, you may say that low-dollar donors will receive an e-mail newsletter once per month, and an invitation to your large summer cultivation picnic every year.
For mid-level donors, you may add a personal call from your staff twice per year and free tickets to annual holiday party.  For major donors, you may decide to add two in-person meetings per year plus a handwritten note during the holiday season.
Whatever systems you design, keep them simple, and then focus on implementing them.  After the year is over, go back and review those systems with your team.  What worked?  What didn't?
If certain things aren't working, cut them out of next year's plan, and replace them with something new.  Keep testing, iterating, and improving, and your systems will get better and better every year.
About the Author
Joe Garecht is the President of Garecht Fundraising Associates, and the Editor of The Non-Profit Fundraising Digest.  He has almost twenty years' experience in non-profit fundraising, and focuses his consulting work on helping small and mid-sized organizations build sustainable fundraising systems.