Events fundraising is a hard way for a nonprofit to make a living, but it gets easier when you can count on loyal donors. Here's a guest post by Dan McCarthy with five solid suggestions for building loyalty.
Are you the head of a charity or other non-profit organization? To carry out your mission, you will need to hold fundraising events. Of course, you are going to need money to be able to accomplish that.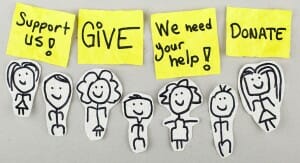 Money doesn't just fall out of the sky, so unless you have a hefty piggy bank yourself, you are going to have to reach out to donors and get very buddy-buddy with them to ensure that they remain loyal and long-term supporters. Here are five ways to build loyalty for your events.
1. Emphasize the Cause
There are a hundred other organizations donors could donate their money to instead. If they chose yours, then it's because they agree with your dedication and approach to the cause. Make it known that their contribution, however big or small, is making a difference to that cause.
You can also send newsletters to your donors with the latest stories regarding the issue. If your group advocates for animal rights, then send email or traditional mail that touches upon subject matters like:
Animal adoption programs
Documentaries showing graphic images of animals in slaughterhouses
Statistics regarding animal deaths in their natural habitat due to human encroachment
If you have the budget, create your own monthly or bimonthly magazine. This gives donors the sense that your organization is legit and truly passionate.
Always keep your donors in the loop. The more they're aware about the cause that the general public may not be privy to, the more likely they are to remain sympathetic and continue to send contributions your way.
2. Measure Donor Satisfaction
Whatever purpose your organization serves, there are likely similar ones with bigger name recognition. If you don't measure your donor's satisfaction, they may donate their money elsewhere. Use surveys to find out what your donors expect from you.
Here are some questions you might ask in a survey:
What type of awareness campaign would you like us to organize?
Would you prefer a more localized campaign or a more national or global outreach?
On a scale of 1 to 10, how effective would you rate our campaign? If 5 or below, please explain why and how we might improve.
Would you like to see a bigger presence on social media or do you prefer a more traditional outreach (e.g., flyers, door-to-door, tradeshow booths)?
3. Provide VIP Membership for Top Donors
Some donors contribute higher amounts and more consistently than others. These are your top donors that you want to make every effort to keep. Acknowledge their contribution by giving them VIP treatment.
How might you reward loyalty by major donors? Here are some ideas:
Front row seating for awareness events.
Promotional gear personalized with the donor's name.
Special mention of the donor in your next magazine or newsletter
A customized plaque awarded to the donor during your event. (Make it a surprise by not telling the donor in advance.)
Everyone likes to be acknowledged, even donors who are donating for a good cause. VIP treatment makes your donors realize that their contributions aren't being taken for granted.
4. Keep Changing Your Campaign Strategy
If your group holds an awareness event every year in the same manner, in the same venue, and at the same time of year, donors may grow tired of the same old method held time and again. So how might you change things up?  Consider these ways:
Add a child-friendly program to your event to encourage donors and members to get their kids involved.
Shift the focus while retaining the core cause. If your organization advocates for an end to national child hunger, then host a one-time event that instead focuses on global children malnutrition.
In lieu of a typical awareness campaign, use the funds in a different manner. Using the same above example, perhaps instead organize a food drive for low-income families with children.
5. Share the Results
Share with your donors the results of your event. This includes the total number of attendees, the number of signatures on a petition, the number of views on an awareness video, and so forth.
You can also make it more personal by letting them know  how their specific contribution made a difference.  For example:
Your $100 donation will feed a family of four for two weeks.
Your $1,000 donation alone covers half the venue rental cost.
Your contribution of $200 pays for the adoption fee of 10 abandoned dogs that would otherwise be euthanized.
It's all About Nurturing Your Donors
Just as businesses nurture their leads, you have to nurture your donors to ensure they're with you for the long haul. It certainly takes work, but the payoff is huge; it ensures that you have long-term allies that will stand with you and provide the dollars to keep your organization afloat.
Dan McCarthy is an Event Manager at Ultimate Experience, an event management company organising fundraising events in the UK. Dan has 5 years of event project management under his belt. He has worked on many successful events, and currently he shares his knowledge by writing on the company blog. Follow him on Twitter @DanCarthy2.