A guest post by Elena Stewart
If you have a cause near and dear to your heart, you may be ready to start a nonprofit organization. But how is this different than launching any other type of business? And what are the steps I need to take to get started? Today, Communicate! shares a quick post that can help you get up and running in no time.
Start With the Cause
All nonprofit organizations operate to support some type of cause. Choose yours, and then make sure that you communicate what it is clearly and concisely. After all, if people don't know what you're about, they're unlikely to stand behind you. DonorBox offers great information on writing your mission statement.
Get NPO Status
To be considered a true nonprofit, you must submit and be approved for a 501(c)(3) tax exemption. This allows you to buy goods and obtain financing for your nonprofit without paying state and federal taxes. Depending on where you live, you may have to file at each level separately. Before you file, make sure that you have attached a copy of your NPO articles and other pertinent information.
Get Support for Your Nonprofit
Getting support for your nonprofit goes back to being clear about your purpose. But, it's not just enough to have it in writing and hope people come. You have to get out there into the world and give people an opportunity to show their support.
Start this process by creating a logo, brochures, flyers, and other marketing materials. Your logo should be easy to see and memorable, and you can check out this free app to create a design on your own if you can't find a graphic designer willing to donate their time. You can also create a banner design online for your social media presence.
Analyze the Market
Charitable organizations exist throughout the United States, and there is a good chance that you'll run into some "competition" as you launch your new NPO. This is to be expected, but it might make finding new followers and supporters a challenge. Although your goal is not to compete with others in your space, you can form a solid reputation for yourself by being fiscally responsible and following best practices. If you need inspiration, Charity Navigator offers a list of nonprofit organizations with a perfect accountability score.
Start Raising Money
Your nonprofit has to have money to operate, and fundraisers are how you do that. There are many different ways to fund your endeavors, but one great way to start is by participating in or hosting a community event. According to One Cause, you also need to establish a budget, which will pay for things like the event space and refreshments. Talk with your supporters and put together a team that can help. You also need to market your event, sell tickets, and enjoy yourself throughout the process.
Share Your Successes (and Challenges)
Another important step in having a nonprofit is sharing your work with the world. You can do this through social media, but you will likely have to have a personal social media account first. Make sure that you share information on the work you're doing as well as any challenges that you face along the way. Your social media accounts are a great way to also find new followers that can help your mission succeed.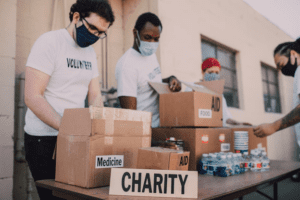 Starting a nonprofit is a great way to shape your world. But, it's not always an easy task, and there are many steps along the way. Remember, it starts by knowing your cause and applying for nonprofit status. Then, you have to learn how to market yourself and share your work with the world.
Do you still need help? Contact Communicate! Consulting.