A guest post by James Barnard of BWF
Your nonprofit's annual giving strategy gives your organization the unrestricted funding it needs to power its mission. Everything from your volunteer program and community outreach projects to the electric bill for your organization's headquarters can be funded with annual gifts.
Because unrestricted funding is so important for your organization, you need a clear annual giving plan to help reach your goals. In this guide, we'll highlight five essential elements of a successful annual giving plan:
Inspiring goals
Pipeline development strategies
A clear message
Personalized donor outreach and stewardship
Appreciation efforts
According to BWF's annual giving guide, today's nonprofit donors expect "meaningful engagement, personalized interactions, and curated experiences that speak directly to their motivations and needs." Creating a plan with the following elements can help you exceed donors' expectations and develop relationships that last long after your annual giving campaign ends.
1. Inspiring goals
Your nonprofit's team will have an objective to work toward when you set clear goals. Use your goals to set priorities and establish benchmarks for success.
Your goals should be specific, measurable, and attainable. Review past annual giving campaigns to develop a relevant, achievable goal based on your current and potential fundraising capacity. Base your goals around specific fundraising metrics such as:
Revenue
Donor acquisition
Donor retention
Fundraising ROI
Assign reporting responsibilities to each of your annual giving team members. For example, one team member might be in charge of tracking revenue while another keeps tabs on your donor acquisition and retention rates.
2. Pipeline development strategies
Reaching your annual giving goals depends on your nonprofit's ability to connect with new and existing donors. To make this connection, use your donor pipeline to convert audience members into annual giving donors.
You can find leads by engaging with individuals who have already been involved with your nonprofit in the past, including:
Past donors
Past volunteers
Past event attendees
Social media followers
Website visitors
You can also conduct prospect research to discover potential new donors who may not yet have any relationship with your organization. With the help of a prospect research consultant or database, you can identify potential donors who have a high giving capacity and an interest in your cause and then focus in on those who fit into your ideal donor profile.
Reach out to these potential donors using a combination of digital messaging and traditional outreach like appeal letters. Establishing a multichannel communication approach helps keep your appeal top of mind for potential donors.
3. A clear message
To help your nonprofit stand out, craft a relevant message that resonates with the widest group of potential supporters.
Whether you're reaching out as part of your mid-year or year-end giving appeal, your outreach should be unified and compelling. Follow these tips when creating your annual giving message:
Tell a captivating story. Clearly explain why you're raising funds and who will benefit from your organization's projects and programs. Consider highlighting the journey of a central protagonist who was supported by your organization's work.
Create a catchy slogan or tagline. Make your annual giving strategy stand out by creating a slogan for your campaign, such as "Building a Stronger Tomorrow" or "Love Your Earth Today." You can use your slogan as a hashtag on Instagram or Twitter to track conversations about your campaign.
Highlight donor benefits. Describe the value donors will receive from joining your campaign, such as the ability to join your donor society or receive complimentary merchandise.
Whether you're telling your story within a social media post, letter, or email newsletter, keep your message brief and provide an easy way for supporters to get involved. For example, you might include a link or QR code leading to your online donation page.
4. Personalized donor outreach and stewardship
As mentioned, donors expect to be treated as individuals. Creating personalized content for donors rather than generic, one-size-fits-all messages will help you generate deeper relationships, and as a result, more donations.
Build donor relationships throughout your annual giving campaign by:
Segmenting donors to create tailored content. For example, you might create groups of former volunteers, donors, and event attendees. Then, you can send more relevant messages to each group based on their interests.
Personalize your appeals. Use the information you have in your donor database to customize your outreach messages with donors' names and references to their past involvement. For example, you might thank someone for their previous volunteer work or past donation to your year-end giving initiative.
Answer donor questions. Be responsive if donors reach out to you with questions. Providing a positive customer service experience by quickly addressing donors' concerns will help build trust.
5. Appreciation efforts
When you wrap up your annual giving campaign by showing gratitude to donors, you can lay the foundation for long-term relationships with them.
Make your thank-you notes stand out by:
Sending messages in donors' preferred formats. Use your donor data to determine each donor's preferred communication method. Personalize your thank you messages with donors' names and donation amounts.
Asking donors for feedback. Donors can provide valuable feedback on everything from your campaign messaging to your donor engagement efforts. Asking them for feedback and implementing their recommendations makes them feel heard and appreciated.
Giving donors a way to stay in touch. Keep the conversation going — invite donors to continue engaging with you by following you on social media, signing up for your email newsletter, or registering for a volunteer opportunity.
If you feel like your nonprofit could use more personalized support throughout your campaign, don't hesitate to reach out to a fundraising consultant. These fundraising partners can provide you with the tailored support and recommendations you need to exceed your goals.
---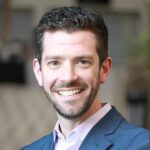 James Barnard, Associate Managing Vice President of Annual Giving and Digital Marketing at BWF
James an integral part of the team at the global fundraising consultancy BWF. He helps nonprofit clients develop digital strategies for fundraising and marketing. James has been active in CASE for a number of years, participating as a conference speaker and CASE District II board member.