A guest post by Laura Rhodes, Third Sector Consulting
Are your thank you letters personalized, personal, or both?
Putting your donor's name in the letter and referring to the gift amount? That's personalization.
Thanking your donor for something specific that they did? That's personal.
Let me give you a couple of examples of how I recently made some thank you letters personal. Then I'll share some ways you can make your own thank you letters more personal, too.
You see, my thank you letter writing skills were put to the test late last year. My mother passed away in October.
While her death was unexpected, the outpouring of love and support that followed was not. As you might expect, our family received cards, calls, food, flowers and more after her passing. Many people sent memorial donations to her church and other charities.
It all added up to a lot of people who needed to be thanked, for a lot of different reasons.
Would it have been easier to send a generic thank you note, along the lines of "Our family appreciates your thoughtfulness during this difficult time." Yes, absolutely.
Is that what I did? Absolutely not!
Just like your donors, my friends and family members are special people. And I wanted them to know that. To feel my genuine appreciation. To feel special when they received and read their thank you note.
So, for instance, in one letter to a friend, I told him how his was one of the first sympathy cards I received and how much his handwritten note meant to me. Then I thanked him for his memorial donation.
In a letter to one of my cousins, I told her that her hug was the very first one I received on the day of my Mom's Celebration of Life and how it gave me strength. Then I thanked her for her family's role in the service.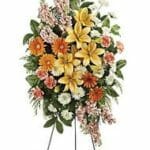 And for the neighbor who couldn't attend the Celebration, but sent flowers, I sent a picture of those flowers along with a copy of the service program. Then I thanked her for being with us in spirit that day.
I can hear you saying, "But that's different. I don't know my donors like that!"
You might be surprised at what you know about your donors. And with that information, you can make your thank you letters more personal.
First, pay attention to your donors' giving habits.
For instance, did your donor make more than one gift this year? Did she give more this year than last? Has she given for 3, or 5, or 10 years in a row? Is she a first-time donor?
Acknowledge her gift, tell her that you noticed that it was an extra gift (or an increased gift, or a milestone gift, or a first-time gift, etc.). Then tell her what her donation will do and give a specific example of how it will make a difference.
Second, pay attention to your donors' actions.
For instance, did she attend your fundraising event this year? Sponsor a table? Buy an auction item? Volunteer on a committee? Volunteer within your program?
You're going to write a thank you whenever a donor makes a monetary contribution. When you do, look for and recognize the other ways that she supports your organization.
Making it personal is about letting your donor know that you noticed what she did. It also means telling her, very specifically, why her contribution (of time, talent, treasure or all three!) was meaningful.
One last tip to make your letters personal: Handwrite as many notes as possible.
In today's digital age, where so much seems so impersonal, a handwritten note will stand out. Your donor will appreciate that you took the time to write. It shows that you really care.
At a minimum, pen a personal P.S. on your computer-printed thank you letter. Folks will read what's handwritten, even if they don't read the rest.
Bottom line: When you "Wow!" your donors with a prompt and personal thank you, you'll be well on your way to giving your donors what they want – and what they deserve.
---
WANT MORE THANK YOU IDEAS?
Check out these posts from the Let's Talk Nonprofit blog:
How Your Thank You Letter Can Put More Money in the Bank
Anatomy of a Stellar Thank You Letter
What a 10-Year-Old Can Teach You About Thanking Your Donors
P.S. If you liked this article, you can receive posts like these each month in your email. Topics include fundraising, grant writing, board development, and best practices.
Sign up today, join the conversation, and Let's Talk Nonprofit.