Oops! Your nonprofit organization did something wrong to a donor.
I'm sure you didn't mean to. Surely, you want to strengthen your relationship with that donor, not hurt her feelings nor make her angry with you. But sometimes, inadvertently, you just stumble into a bad place with your donor, and it feels awful–to both of you.
Please take a deep breath before you go on.
Offending a donor isn't the end of the world. It doesn't even have to be the end of the relationship. If you handle it right, you could even make that donor remember you more fondly in the future.
Yes! Oddly enough, the donor who gives you negative feedback is like the donor who gives you money.
Each  of them has shown they care what you do (or you wouldn't have heard from them in the first place!).
Each of them is waiting to hear back from you.
Each of them is giving you an opportunity to reaffirm the relationship: by sending thanks, or by sending a heartfelt apology.
Don't waste the opportunity!
When to offer an apology
You made a mistake
Sometimes you've really made a mistake, and you recognize it as soon as it's pointed out to you. That could be:
Calling the donor by the wrong name.
Sending them a letter or email message they weren't supposed to get.
Phoning someone who specifically asked, "Do not call."
Interrupting them during their religious holy day.
Asking to speak to a person who's recently died.
If you have done any of these (as I have!), you know the sinking feeling when a donor calls, writes, or posts on social media to point it out. But I can tell you that the feeling when you've healed the injury is just as deep, and more lasting.
The donor just disagrees
Sometimes you think what you're doing is perfectly reasonable, and the donor just doesn't see it that way.
It might be that you sent them mail and email regularly–which most people appreciate, but this donor doesn't like. Or it might be that you asked them for money more often than they wanted.
Sometimes, it's even something that seems like a nice gesture to you but strikes them as a waste of time or money. "Why did you send me a self-addressed stamped envelope when I'm going to go online to give anyway?" Or, "I only gave you $25 and I got a call from the Executive Director. Doesn't he have anything better to do with her time?"
You might feel defensive when you hear this. You might want to argue with the donor, or educate them about best practices in fundraising. But don't! An apology costs you nothing, and it may mean everything in the world to the donor.
As Mary Cahalane advises:
You can be pretty sure that when a supporter calls or writes with a complaint she needs to be heard. So don't jump in with excuses or explanations right away. Just listen. Listen without judgement. Try to understand the real reason she's upset.
How to make your apology
"In direct response membership development nothing says 'I love you' like 'I'm sorry.'"    –Moira Kavanagh
Remember, your purpose when you respond to an upset donor is not to win an argument: it's to win back the trust and affection that made them a donor in the first place! So, follow these three tips from Moira Kavanagh:
Act quickly. (Within hours, whenever possible!)
Be transparent. When you make a mistake come out and say it.
Be positive. Take the opportunity to let your donors know how much you appreciate them, and remind them how important their support is to the work you're doing together.
And remember this helpful advice from Mary Cahalane:
No BUTS. An apology followed by "but" is no apology at all. Ever.
Take responsibility. "I'm sorry you feel that way" is not an apology.
Promise to do better next time when you can.
That last point, "when you can," is an important qualification to the general rule. Allison Gauss cautions us:
Your first goal should be to satisfy this person if it's at all possible…

Your second objective in this situation is to maintain your nonprofit's autonomy and independence. Everyone knows that the squeaky wheel gets the grease, but the time and money you put into pleasing that wheel can distract you from getting to your destination. This is why you need to balance donors' demands and opinions with your organization's mission and plan.
Your Apology Speaks for the Organization!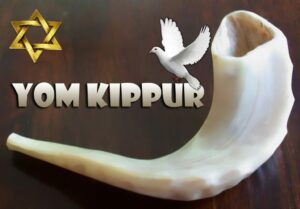 Today, when this post goes live, I will be celebrating the Jewish holiday of Yom Kippur, the Day of Atonement.
One of the central themes of the holiday is asking to be forgiven for the sins we have committed, deliberately or even unintentionally and unknowingly.
In the Jewish tradition, however, we do not confess our sins individually to God. For things we have done wrong to a specific person, we make an apology and try to make things right with that person.
For wrongs we have done toward our own best self, toward the natural world, or toward God, we confess collectively. "We have abused, we have betrayed…."
When your nonprofit has done wrong to a donor, it is the we–the organization–that the donor resents. It is not you personally.
You are not guilty, but you are responsible–and you have the wonderful opportunity to be the voice of your organization and say, "I'm sorry. You matter so much to us. How can we make things better?"