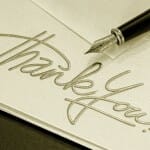 We've been talking about "creative" ways to thank your donors using videos, phone calls, poetry, and gifts. But who says a traditional thank-you letter can't be creative too?
What You Need to Know Before You Thank
First, get the basics right. As Allison Gauss reminds us:
For a truly meaningful thank you, there are a few things you should know about the person you're thanking.

Who is the donor?
Which campaign or program did they give to?
How will you turn their gift into impact?
Great Advice on How to Start
Once you know your donor and you can state how their donation will make a difference, you can start writing. Where do you start? You're in luck! Generous experts have given us all great advice on to write letters our donors will treasure.
Writing the Ideal Thank-You Letter
I'd be silly not to mention my own article, The Ideal Thank-You Letter Went Out Today. If you wrote the ideal thank-you letter, you:
Confirmed how much I gave you.
Illustrated my impact with a story.  Another story, besides the one in your appeal.
Included a photo or image to make my impact real.
Told me about how else I can help: by volunteering, or liking you on Facebook, or spreading the word to my friends. (The famous "call to action.")
Signed it by hand, and wrote something just for me.
Be Creative! It's Never Too Late
Are you looking back at that perfunctory piece of paper you mailed in December  and wishing you had taken the time to write a better letter? It's never too late!
Pick some first-time donors, some loyal donors, and some major donors from your list.
Write to them, "I was thinking of you again today because something happened today that only happened because you gave."
Tell them a story. Show them a photo. Give them the details. And give them the credit.
Your donors will thank you!