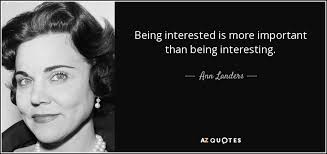 One of the best ways you can thank a donor is to show them you know what they're interested in–and talk about their interests.
How do you do that? Here's a good example.
A Personal Email to a Donor: Me!
My wife Rona and I are longtime supporters of RESPOND, the Somerville, MA based organization working to end domestic violence. Their Chief Development Director, Danielle Kempe, knows that. So, look at the personal email she sent me just this week:
Good morning Dennis,

Hope all is well!

I just heard a client success story for our programs office that I thought you'd be interested in too.

This August, we moved a resident into her own apartment/independent living. She was excited to have her own space in her own name. As we did her exit interview, she said what she was most grateful for and would remember was RESPOND being there for her as she went through the immigration process.

In these times when immigration reform is at the center of every discussion, families are in fear, and it is one of the reason why people are afraid to report domestic violence, RESPOND was more than just a roof over her head. While at RESPOND, she was able to get a green card, take ESL classes, obtain gainful employment, and is set to start college classes. The safety planning tools will help her keep safe from her abuser, and the empowerment RESPOND provided will keep her strengthened for her future.

All the best,

Danielle Kempe

P.S. Hope to see you at our open house! Details below.
Why This Email Interested the Donor
As Development Director, Danielle has RESPOND's database at her fingertips. She knows the recency, frequency, and monetary value of the gifts that Rona and I have made over the years: not that large, but consistent.
Danielle also knows we care about the safety and dignity of immigrants. How does she know that? I suspect it's because she made a point of meeting with me after a a few months on the job, and we discussed it then. She probably went back to the office and made a note in the database of the donor's interests. That's what I would do in her place.
Danielle and I have followed each other on social media for a while, too, and she's seen some of the posts I've put up, and my photo with the words "#HeretoStay-I Support DACA" on my personal Facebook page. If she's really good, and her database allows it, she has my feed at her fingertips too.
Show Your Interest to the Donor by Recognizing Theirs
Can you do as well as Danielle at RESPOND did? Ask yourself:
Do you know the names of your loyal donors?
Do you understand what they're interested in, besides your organization?
Are you taking steps to find out? And,
Are you unselfishly giving them information they will enjoy that makes them say, "That organization really knows me"?
The more the donor believes you are paying attention to them as a person, the more they will feel you're not just looking at them as a wallet. You have a relationship.
Now, that's interesting!