A guest post by Sarah Tedesco of DonorSearch
If your nonprofit is just starting out or has a tight budget, your fundraising team may be facing some serious pressure to set a promising prospect research or wealth screening game plan in motion.
Never fear however; there are plenty of DIY tools out there for one or more nonprofit team members to successfully put to use, including:
DonorSearch (best for comprehensive prospect research).
Double the Donation (best for matching gifts).
IntellectSpace (best for nonprofit networking).
Government-related search engines (best for public records)
Online social connections (best for individual profiles).
These handy resources will not only single out key major giving prospects, but also help your nonprofit build a diverse prospect research network to rely on for years to come.

1. DonorSearch (Best for Comprehensive Prospect Research)
When it comes to making the most of prospect research, no one has a more refined and easy-to-use collection of services than DonorSearch.
Apart from their blog which delves into every area of prospect research imaginable, DonorSearch also offers two essential resources for budding nonprofits: DS Giving Search and their charitable giving database.  
To begin with, DS Giving Search is a FREE one-of-a-kind tool that provides a condensed version of all of DonorSearch's philanthropic data — and it's available to everyone!
Many prospect research professionals use DS Giving Search to identify top donor prospects — individuals and corporations alike — at lightning speed by honing in on major giving identifiers like:
Past giving to your organization or other nonprofits
Philanthropic history and nonprofit affiliations
Political giving or real estate ownership
This exceptional tool works best on mobile devices to help you perform prospect research on-the-go, but is also effective on tablets, laptops, and desktop computers.
DonorSearch's charitable giving database is another must-know source for print and online philanthropic data — including past giving, annual reports, print references, and more — to construct prospect profiles around.
By gathering this information in your donor profiles, your nonprofit can better target old and new donors' giving potential in areas like annual giving, major giving, and planned giving. DonorSearch even offers free prospect profile templates to help you get started cultivating donors right away!
Takeaway: DonorSearch provides younger nonprofits FREE expert tools to make growing a substantial prospect research database that much easier.

2. Double the Donation (Best for Matching Gifts)
Another prospect research resource for nonprofits to utilize involves examining matching gift programs and donor profiles.
Matching gifts can encourage donors to reach new levels of giving with your nonprofit by teaming up with their place of work.  
A matching gift search tool can help your nonprofit access a corporate directory of matching gift programs. You can then determine top corporate and individual prospects from this list as well as identify donors who may have already made matching gifts to your nonprofit.
Luckily, Double the Donation's matching gift search tool is the best in the business for helping your nonprofit coordinate prospect research through matching gifts.
Let's take a moment to break down how this practical tool works:
Matching gift prospects enter their employer's name in Double the Donation's matching gift search tool.
The matching gift search tool then directs the prospect to their employer's matching gift program (if it has one) and to the necessary forms and guidelines for participating.
The brilliance behind matching gift search tools for prospect research lies in nonprofits using this crucial data to initiate matching-gift related communications with eligible donors.
A matching gift search tool can also be added to donation forms and matching gift pages to provide donors with easy access to their employers' programs. This allows them to learn more about corporate giving programs during the donation process.
For more top-of-the-line prospect research tools, check out Double the Donation's exclusive ranking, including favorite features and pricing!
Takeaway: Matching gift search tools and programs are an excellent way for nonprofits to get in on the ground floor of prospect research.

3. IntellectSpace (Best for Nonprofit Networking)
This form of DIY prospect research takes a more analytical approach to navigating your best bets for major giving donors.
IntellectSpace specializes in "relationship mapping," a technique that visually lays out all of your nonprofit connections, including donor prospects.
This service provides you with the most up-to-date information on all of your nonprofit ties, allowing you to develop a reliable database of constituents.
For example, if your nonprofit wanted to launch a fundraising campaign for a medical cause, IntellectSpace could help you draw lines between existing contacts and top prospects with a giving history to grateful patient programs or healthcare facilities.
IntellectSpace also offers a portfolio of tailored networking solutions that make it easy for your nonprofit to reach out to prospects and encourage donation opportunities, such as:
LiveAlumni: An online app that hosts current alumni and donor data to help nonprofits identify major giving prospects, find corporate sponsors, and more.
ProspectVisual: A relationship mapping tool that helps nonprofits connect the dots between existing supporters and target prospects.
SalesVisual: A plug-in app for Salesforce that helps nonprofits visualize internal integrations to reveal new prospect research opportunities.
Once you've uncovered these valuable relationships, your nonprofit can then get to know these prospects even better with tailored solicitation strategies.
Takeaway: New and established nonprofits can utilize IntellectSpace to reveal lucrative connections you didn't even know you had!

4. Government-Related Search Engines (Best for Public Records)
One of the most important steps of prospect research is to look into financial markers that set donors apart in their giving capacity. That's why it's always a good idea to look into government-related search engines for filtering through essential public records.
These resources not only display influential wealth markers, but also reveal personal factors that help you understand the little details that make every prospect unique.
Check out our favorite FREE government-based prospect research tools below that nonprofits can't go wrong with:
SEC.gov (The U.S. Securities and Exchange Commission): Discover prospects' stock ownership and corporate filings.
FEC.gov (Federal Election Emission): Research donors who generously supported a political committee or campaign.
County Tax Assessor's Site: Explore prospects' real estate ventures and property values to determine their financial standing.
On top of researching wealth factors, your nonprofit can really go the extra mile by investigating individual and organization philanthropic data from other public records like:
The Foundation Center's online grant database and site-specific nonprofit libraries.
GuideStar's virtual finance documents for all IRS-registered nonprofits.
Biographical, business, and newspaper databases from your library.
As a side note, while your nonprofit is gathering valuable prospect research data, don't forget to organize it efficiently by investing in the right donor management software.
Takeaway: Use government-related search engines to track down notable wealth markers in a prospect's public records.

5. Online Social Connections (Best for Individual Profiles)
Last but not least, never underestimate the power of your nonprofit's virtual community.
By tapping into your online social connections, your nonprofit can not only spread the word about major donation opportunities, but also research personal and professional facts of key donors.
For instance, social media platforms like Facebook allow users to fill out their online profile with all kinds of individual information from hobbies and interests to belief systems and relationships.
On the other hand, your nonprofit can examine someone's LinkedIn profile to get a better idea of their professional background and network connections.
As noted earlier, social media channels also provide your nonprofit with the perfect opportunity to generate a call-to-action for donations. This can be accomplished simply by connecting with online donors directly through videos, storytelling, pictures, and infographics.
Rest assured, if your nonprofit's development team isn't too keen on social media research, you can always take the more simplified route of Googling a top prospect.
These straightforward online search results can uncover just about anything about a potential donor, including but not limited to:
If the prospect works for a company with a matching gift program.
If the prospect has a history of philanthropic work at similar nonprofits.
If the prospect has a record of giving to nonprofits, charities, and community projects.
All in all, a shrewd DIY prospect researcher should take full advantage of these online avenues to discover as much as they can about a potential donor before reaching out with a tailored solicitation strategy. After all, chances are higher that your donors will renew their gifts if your team puts the effort into making a personal impact first.
Takeaway: Online social connections are a foolproof resource for prospect research that not enough nonprofits are following up on.
No one ever said that launching a nonprofit was easy, and unfortunately neither is securing the funds your organization needs to thrive and survive. With these DIY essentials for prospect research though, your nonprofit can lay the groundwork for a trusted community of donors in no time.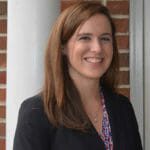 Sarah Tedesco is the Executive Vice President of DonorSearch, a prospect research and wealth screening company that focuses on proven philanthropy. Sarah is responsible for managing the production and customer support department concerning client contract fulfillment, increasing retention rate and customer satisfaction.