How should you raise money for your cause? Write grant proposals, send out appeal letters, hold events, use crowdfunding?
It depends whether your donors want poetry or prose.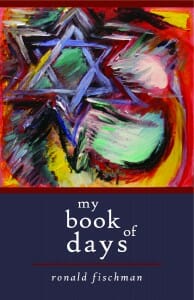 Raising funds with words that sing
My late brother Ron Fischman needed money. He had commissioned artist Debora Alanna to produce the beautiful cover illustration for his new volume of poems, My Book of Days–and he had to pay her for her work.
Ron set up a crowdfunding campaign on Pubslush. He went on to do all the things that would draw people in and make them feel they were doing something good.
He showed people the art they'd be supporting
He gave them several tastes of what the book was all about.
He made it personal. Debora "prepared [this cover art] out of faith that my friends, colleagues, Jewish and poetic worlds would make this campaign successful."
Ron also offered premiums that would appeal to exactly the kind of person who would support his book.
And it worked! The crowdfunding campaign raised enough money to pay the artist, send out the premiums, and do a tiny bit of additional promotion besides.  (By the way, you can order a copy of Ron's book if you wish. Just click this link.
Raising funds with ideas that matter
Ron needed less than a thousand dollars to make his dream come true, and he had something tangible to show as a result. His cause was made for crowdfunding.
Others, not so much.
My friend and colleague Robin Carton of Kayak Consulting Group was trying to raise money for a group that makes small, progressive organizations all over the Boston area smarter and stronger.
Her client wanted to send a direct mail fundraising appeal to the people who support those organizations.  The catch? They had no money for direct mail in their budget.
Can you imagine going public with the plea "Give us money so we can send out letters to raise more money?"  No, I can't either!
Robin and I agreed that her client's best bet was to submit grant proposals to foundations and businesses. Foundations have concepts for what her client does: "capacity building," and "combined impact."  Businesses understand "marketing' and "return on investment."
The language may not sing, but it may convince. And if they're successful, Robin and her client will attract a lot more than a thousand dollars.
When you think about how to raise money for your cause, consider it a communications question.  Do the people you want to support you think in poetry or prose?