A guest post by Kelly Velasquez-Hague of OneCause
Hybrid events have become far more popular among nonprofits in the past several months. They offer the convenience and flexibility of virtual events with the face-to-face connection of in-person events — all rolled into one. When a hybrid event is pulled off successfully, it can make a positive first impression with new supporters and deepen connections with existing supporters.
There is one thing every fundraiser should know! Hybrid events have a lot of moving parts. There are many logistics to consider, such as how to keep both remote and in-person audiences engaged, what activities you should plan, the software you should rely on, your registration, fundraising and checkout flows, and so much more.
That's why we've put together this list of favorite hybrid fundraising events to help get you started. Here are our top three hybrid events:
Auction
Drive-In
Webinar
Planning your own hybrid event might seem overwhelming, but shifting your mindset helps. Here's the key: think of the in-person and virtual options as two ways to experience the event. When you think in terms of what the in-person and remote supporters will experience at key points in your event, it helps ensure you are maximizing engagement and fundraising for both audiences.
Let's take a closer look at these three event types and see which one is right for your nonprofit!
1. Auction
Auctions are an adaptable and flexible event option for nonprofits of any size. The best part?  They can be adjusted to fit a variety of audiences. If you've ever hosted an auction before, you know that they require preparation, and that's still true with hybrid auctions. To plan your  hybrid auction, use these tips:
Preview your auction items in advance. Giving your potential attendees a glimpse into what they could win to incentivize them to bid. This OneCause guide on charity auction item ideas can help you pick the best items.
Use mobile bidding software, which makes it easy for bidders attending in-person or virtually to compete for the same items simultaneously. Plus, you can easily keep track of winners, payments, and where to ship the items.
Keep the live auction fairly short so that virtual attendees do not become disengaged and log off. Consider pairing your auction with other activities, such as meet-and-greets or educational programs to keep everyone's attention.
With compelling items, the right software, and an organized format, your hybrid auction can be an engaging event for participants attending in-person or virtually. And it's a great way to raise money for your nonprofit!
2. Drive-In
Who doesn't enjoy a night at the movies? Hosting a drive-in or a watch party is a great way to build community among supporters of your nonprofit. And of all of our hybrid event options, a drive-in is likely the easiest to pull off.
Once you secure a venue and set up your live-streaming software, there's only a few things left to do to bring your drive-in to the next level, including:
Allowing attendees to vote on the movie: During the registration process, include a few movie choices and show the one with the most votes. You can even theme the movie around the time of year, like playing a Halloween movie in October.
Encouraging watch parties for viewers at home: Just because a participant isn't attending in-person doesn't mean they can't spend time with others. Encourage your attendees to invite friends to watch with them.
Creating snack packs: Whether you participants are attending in-person or virtually, provide snack packs with popcorn, candy, and other treats. You can give them directly to in-person attendees and mail them to participants watching from home. This is also a great opportunity to include some branded materials to raise your nonprofit's visibility.
Weave in Mission Moments: Be sure to orchestrate fundraising and donations moments before and after your movies. If you are doing a double-feature, have an intermission and do a Fund-A-Need moment.
To foster connection with your attendees and make it fun, you could plan themed activities for before, during, and after the movie (think Rocky Horror Picture Show or movie trivia). Adding a few creative elements and activities can boost engagement, and create a memorable hybrid event experience for all!
3. Educational Webinar or Event
If your nonprofit is looking to incorporate more educational events into your fundraising strategy, then a webinar, seminar, or other educational gathering might be the right hybrid event choice for you!
Webinars are a great way to raise awareness about your cause and ignite passion in your donors. You can offer in-person tickets to the speaking event to VIP guests while other attendees can stream the gathering from the comfort of their homes.
During your hybrid webinar, provide equal opportunities for engagement for in-person and virtual attendees. Allow both groups to ask questions and interact with speakers and each other. For virtual attendees, create breakout sessions to facilitate smaller discussions about what your speakers have shared.
Another option is to pre-record the speaker's lecture and host a live Q&A session. This provides in-person attendees an opportunity to connect with each other as they watch the video, while everyone at home can keep up with the recording. With this option, be sure you have a moderator to run the online questions so that everything stays organized.
One last tip: When planning your hybrid event, start preparing early. Remember, there's a lot of logistics involved, so it's best to give yourself plenty of time to get everything up and running. Good luck!
---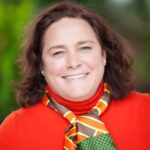 Kelly Velasquez-Hague brings over 20 years of fundraising, nonprofit management, and sales/marketing experience to her role as the Director of Content Marketing for OneCause.
As a member of the OneCause sales and marketing team, Kelly manages all of the company's content strategy and execution. She is passionate about empowering great missions and loves that her current role allows her to continue to help nonprofits reach new donors raise more funds for their cause.