A guest post by Aidan Augustin at Feathr 
Over the past few years, the types of events hosted by nonprofits have shifted dramatically. Even throughout the 2010s, most events took place in person. Then, in 2020, the COVID-19 pandemic suddenly forced everything online.
But we adapted, and now virtual events have become a normal part of many organizations' operations. Besides being safer health-wise, virtual events are often more convenient to attend, although creating a sense of community requires more effort online than in person.
We've now found a solution to the convenience vs. community problem. Hybrid events are the best of both worlds, allowing supporters who want that sense of community to attend in person but keeping a convenient, safe space open for attendees who prefer to log in from the comfort of their homes.
If your nonprofit planned in-person events in the past, you probably relied on sponsorships to provide the supplies and funding needed to reach your goals. But sponsorships aren't just for in-person opportunities — they can also help with your virtual and hybrid events.
In this post, we'll cover five ideas to make the most of sponsorships for your virtual and hybrid events:
Co-branding your marketing materials with your sponsors.
Asking sponsors to promote your event.
Offering your sponsors audience insights.
Adding sponsor logos to your event merchandise.
Creating tiered sponsorship packages.
1. Co-brand marketing materials with sponsors
Effective sponsorships depend on creating ways for both you and your sponsor to benefit from the event. One place where you can provide value to sponsors is by incorporating their branding into your marketing materials.
As you develop your event marketing strategy, co-brand your supporter outreach with both your branding and sponsor branding. Some opportunities to promote your sponsors while marketing your event include:
Adding their logos to digital ads, direct mail, or emails. In digital outreach, you might offer opportunities to link to sponsors' websites plus links to your registration form so that supporters can learn more about these organizations too.
Posting about sponsors on your social media accounts — schedule a shout-out post for your sponsors after they agree to support your event. Consider posting another appreciation post for your sponsors shortly before or after the event. This serves the dual purpose of thanking them publicly and reaching sponsoring organizations' audiences as you tag the sponsor in your posts and the message shows up in their followers' feeds.
Positioning your sponsors as thought leaders by writing blog posts or profiles discussing their work and impact. Feature these on your website, social media, or other platforms to get the word out about your sponsors. You may even suggest sponsors create their own content that you then share on their behalf.
Your sponsors want to feel valued and personally connected with your event and your mission as a whole.  Offering more ways to help their reputation as philanthropic supporters through marketing will drive more business for them and encourage them to continue supporting your mission in the future.
2.  Ask sponsors to promote your event
It benefits your sponsors to co-brand their marketing materials. They can get the word out about their partnership with your organization, further boosting their reputation as a philanthropic organization.
The best way to encourage your sponsors to help with the promotion of your organization is to make it as easy as possible. Provide them with co-branded marketing pages where they can simply fill in a paragraph or two about why their organization cares about your mission. After that, they can share the resource online with their followers.
Plus, if you provide the pages your sponsors need to market your organization, you can add specific features that will be helpful in promoting your event. Make sure to include:
A button that leads supporters to your registration page.
The date, time, and location of the event.
Information about your nonprofit's mission.
Tracking information so you know which attendees signed up due to which sponsor's efforts.
Any marketing your sponsors do on behalf of your organization is great and should be appreciated by your organization. But if your organization provides marketing resources, your sponsors will be more likely to help with promotion, and you'll ensure you're providing all potential supporters with the resources they need to attend.
3. Offer your sponsors audience insights
As you may already know, collecting data about your supporters can help your nonprofit to improve communication and direct your marketing efforts. Businesses sponsoring your organization can use this data in the same way!
Your sponsors will have access to your audience through your event, and providing them with information about the demographics you target will allow them to market your event effectively and promote their own services as well. If they understand the audience you're trying to reach, your sponsors will be able to promote your event to the right people through the right channels and with the right messaging.
For example, if you're targeting adults in their 30s and 40s to attend your organization's event, your sponsors may want to focus on Facebook content in their social media promotions since Facebook is the preferred social media site of many people in that age range. These supporters will also be more likely to read long-form content and may be interested in unique graphics alongside the text.
But if you're trying to attract attendees in their teens and early 20s, your sponsors could create video content for newer social media sites like TikTok. Images and audio are more appealing to this generation than text-heavy content, and partnering with influencers will add credibility to your sponsors' posts.
4. Add sponsor logos to event merchandise
Hosting your event virtually or in hybrid form doesn't mean you can't produce merch for attendees. They'll still enjoy getting free stuff, and your marketing message will be spread even further leading up to the event.
According to Feathr's list of top marketing ideas, product marketing encourages spreading awareness of your nonprofit's brand through word of mouth while providing additional value to your supporters and attendees. When supporters bring a water bottle with your logo to the gym or put a sticker on their laptop, other people will notice your name in public and ask the product's owner about it, leading to a discussion about your mission and work.
In some ways, virtual and hybrid events lend themselves to product marketing more than in-person events. This happens because you can strategically send out merch ahead of time, which helps to personalize your marketing strategy. A few ideas for advanced product marketing:
Include a sticker or button in your direct mail. This will encourage supporters to sign up for your event by showing them immediate value from your event materials. When you send this direct mail, make sure it's easy to take action immediately by including a registration URL or phone number in your letter.
Send packages with larger items to advance registrants. They'll be able to show off their merch before the event, spreading the word to their friends and family. Items like t-shirts and sweatshirts generate additional excitement as well as marketing opportunities.
Promote your event merch on social media. Again, people love getting free stuff, so a post telling your followers what they'll receive if they sign up for your event will help you pick up momentum. You can also link to your event registration page in the caption of your post or in your bio so that it's easy for supporters to find.
To involve your sponsors in product marketing, ask their permission to add their logos to your event merch. Once you design your products, allow each sponsor to place an order for their organization. That way, they can distribute merch to their team and to attendees who sign up through their marketing channels, expanding reach for themselves and for you.
5. Tier sponsorship packages
When you look for event sponsors, you'll often end up contacting organizations of different sizes and scopes. So, not every sponsor will be able or want to give the same amount to your cause. A nationally recognized brand will have a lot more capacity to contribute than a local business, although the local business might be more eager to support an event in their community.
To get a variety of sponsors on board, create tiered sponsorship packages. Let each potential sponsor know what benefits they'll get in each package so they can make the choice that's best for them. You could set up your sponsorship packages in three tiers:
Tier 1 could include putting the sponsor's logo on your event t-shirt and a shout-out post on your social media.
Tier 2 could include everything in Tier 1, a blog post promoting the sponsor, and their logo on other event marketing materials — ads, email promotion, direct mail, etc.
Tier 3 could include everything in Tier 2 and the opportunity to have an organization representative speak at the event.
This is just one example of tiered sponsorships. You may need to change your approach based on your nonprofit's expectations or the type of event you're hosting. Some events just require more funding, while others would benefit from in-kind donations as well — for example, items to sell at a virtual auction or water bottles for a hybrid fun run. So, make sure to account for the value of these in-kind contributions when designing your sponsorship packages.
---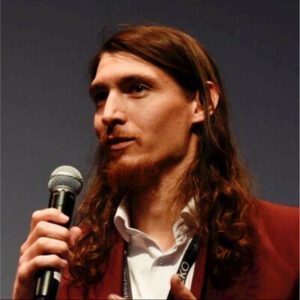 Aidan Augustin
Co-founder & President, Feathr
Aidan Augustin is the co-founder and president of Feathr, an industry-leading tech company building marketing tools specifically tailored to the needs of associations and event organizers. Feathr has helped over 800 associations and 5,000 conferences, trade shows, and virtual events grow attendance, member engagement, and digital sponsorship revenue. Based out of their Gainesville, FL headquarters, Aidan leads the sales and marketing functions of Feathr and spearheads industry engagement. He is an actively involved member of both ASAE and IAEE and a regular speaker on the topics of digital marketing and event/association technology.
Aidan Augustin is the co-founder and president of Feathr, an industry-leading software company making digital marketing more accessible to nonprofits and event organizers. Feathr has helped over 800 nonprofits and thousands of events know, grow, and engage their audiences. When he's not steering the ship at Feathr, he's playing strategy games, singing karaoke, or reading books about people who changed the world.