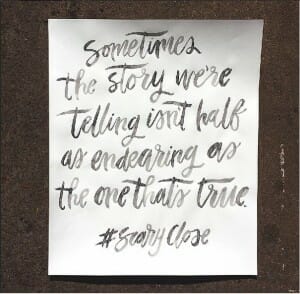 Did you ever read a fundraising letter that sounded like this?
"Tom had a problem. He came to us, and we solved it. Jane had a different problem, and she came to us and we solved it. Enrique and Miranda had a whole host of problems, and came to us, and…."
I have read many appeal letters that took this approach–and not one of the stories stuck with me.
The problem isn't just that they are all talking about the nonprofit, instead of making the donor the hero of the story. The problem is that they are not telling one story and telling it well.
The Power of a Single Story
There are lots of reasons your fundraising appeal letter should focus on one story, not two, not three, not many.
One story touches the heart and rests in the memory. Many stories distract.
One story can develop at full length in your fundraising letter. Many stories crowd each other. You tend to turn them into mere timelines…instead of dramas.
One story has the chance to be universal. When you tell many stories, you emphasize that each is specific. You reduce the chance that your readers will relate to any of them. It's paradoxical, but it's true.
What to Do with the Other Stories Instead
Why are nonprofits tempted to throw a grab bag of stories into one appeal letter? I think I understand the temptation. But you can resist it if you know what to do instead.
"We only send out one appeal letter per year, so we want to use everything we've got." A worthy thought! But plan on sending out more appeal letters, instead. Two or three letters, each with a great story, will raise more money than one letter full of plot summaries.
"We were so proud of ourselves for actually collecting the stories. Now you're saying not to use them?" Far be it from me to say that! Use them in separate letters–or in newsletters, social media posts, and lots of other communications that don't include an "ask." Then the appeal letter will reach people who already know and care about what you do (and want to be a part of it).
"We have four different programs. We have to say something about each." No, you don't–not in the same letter! Ideally, you know your audience, segment your list, and send each donor the story that he or she will care about the most. If you can't do that, then tell stories about them one at a time, over a period of time. Take turns. Each program will benefit when the organization raises more money!
Are you writing a Fall appeal letter? What's the one story you're going to include that your donors will remember?
---
Find the rest of the series under Fundraising Tuesday.