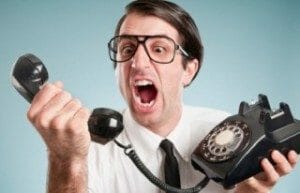 Cold calls make me want never to pick up the phone. and I know I'm not the only one.
My friend Tema Nemtzow wrote me, "I just got a call asking if I'd like to have a new source of selling insurance. When I told him that I don't sell insurance, he asked me…if I'd like to start!"
Is Your Nonprofit Acting Like a Telemarketer?
You may groan at this terrible telemarketing. But think a moment. Is your nonprofit acting the same way?
Do you send the exact same message to longtime supporters and new acquaintances?
Do you add people to your mailing list just because they live in the neighborhood and they have a lot of money?
Are you constantly talking about what your organization does instead of what your audience cares about?
You're a decent person. Two things you would never say to a personal friend: "I have no idea what interests you, so I'm going to talk about me and what I'm doing." And. "I know we share an interest in sports, but I'm also interested in transcendental meditation, so I'm going to tell you all about that." You wouldn't do that…and if you did, you would lose your friends!
Unfortunately, without meaning to, nonprofits are saying these things to donors all the time. Too many nonprofits are "making cold calls," even in our writing.  We're pitching "products" the person on the other end doesn't want…and making it clear to her that we have no idea who she is.
Stop Making Cold Calls, Start Making Friends
We need to stop being lame salesmen like the one who called Tema. Instead, nonprofits need to learn more about our audience–before asking them for anything.
Imagine two people receiving your email. Marta is a longtime donor who cares intensely about your Latino youth program. Stephanie gave you her email address to run in the 5k road race, and she has no previous relationship with the organization, but she posts about her kids and the local school system on social media.
Do you really want to send them each the same message? If you treat Marta as if she never gave before, won't she feel ignored? But if you treat Stephanie as if she already knew and cared about your organization, chances are she will just hit "delete."
The answer is to treat each person the way that's appropriate to their relationship with you.
Getting to Know You, Getting to Know All About You
What do nonprofits need to know about the people receiving our mail, email, and online messages? At minimum:
Is this person already a donor or a volunteer, or are they someone we hope will someday give time and money to the organization?
What does our organization do that this person cares about?
What else matters to them?
You can find out all these things by asking them, in person or by follow-up phone call or email when they join your mailing list. You could even send them a quick survey automatically, using an email marketing tool like MailChimp.
You can also find out more about them by doing a little detective work. Ask: who knows this person inside your organization? Investigate: what you can find out about them with an internet search? Listen: what are they talking about on social media?
And then, you can record what you find out in your database or CRM.
Build a Relationship with Potential Donors
Once you know your audience, there's a whole list of things you can do to make them feel closer with your organization. Here are eight of them.
Include content in your newsletters that will appeal to your different audiences. Make sure there's something for everybody!
Better yet, segment your list and send different content to different groups based on their interests.
Schedule calls and visits with donors who are showing signs they might get more involved.
Send different appeal letters to people who gave before and people who might give for the first time.
Tell different stories in those appeal letters to people who care about different things. (Remember Marta and Stephanie!)
In the salutation of your appeal letter, use the name that person wants to be called by.
At the end of the appeal letter, write a personal note based on what you know about the recipient.
Personalize the thank-you letter you send them after their donation, too!
If your nonprofit gets to know its audience and communicates with them in a personal way, you will never have to make "cold calls" again. When you call (or write, email, text, etc.), the people you are reaching will set aside what they're doing to listen to you.
That's what you do–for a friend.