A guest post by Carey Aron, Fun Pasta Fundraising

No matter what the endeavor, it's never a good idea to have "all of your eggs in one basket." When it comes to fundraising for nonprofit organizations, multiple avenues for generating revenue means less risk of interruptions in the donation stream. The global pandemic certainly exposed the importance of a diverse fundraising portfolio.
When you make an effort to diversify, peace of mind is just one of several important benefits:
BENEFITS OF DIVERSE REVENUE STREAMS
You'll broaden your supporter base
You'll boost and protect revenues
You'll mitigate unexpected risks to your dollars
GIVE SOMETHING, GET SOMETHING
An interesting and rewarding way to supplement your fundraising is to connect with supporters by running a product fundraiser. Generous people love to give but getting a little something in return is an added treat!
Here are some clever ideas for "product fundraisers":
Food: small-budget items that can generate significant dollars; fun pasta, pizza kits, candy, or frozen foods
Outdoor Greenery: the perfect "homegrown" community fundraiser; flower bulbs or Christmas trees – every house needs both!
Home Accessories: great for meaningful gifts or inspirational décor; you can sell candles, kitchen gadgets, home accessories and other items for the household
Product fundraisers are a great way to get your creative juices flowing! Nowadays most product companies offer online ordering and home delivery, so distribution is simple and hassle free.  If you need a dose of inspiration, here is the story of a young man who thought inside the box to create a successful pizza fundraiser during the pandemic.
CONNECTING WITH UNTAPPED SUPPORTERS
Upscale annual fundraising events are an effective way to attract deep-pocketed supporters, but unique product fundraisers offer an affordable option for countless untapped donors at every level.
A wide variety of products can be offered throughout the year. (Some items can be tied to the holidays; others will entice participants no matter when they are presented.) What a great way to develop a year-round connection with people through products!
Reach new supporters with low price-point affordable offerings
Create an opportunity to have fun and interact with supporters
Give supporters a way to secure a gift for themselves or to those they love
GENERATE EXPOSURE ON SOCIAL MEDIA
Consider this: No one is going to post a photo of a check they've written to a nonprofit on their social media platforms. But, they may very likely show off a fun product they received through your fundraiser!
Let's revisit the ideas presented earlier and imagine the social media possibilities:
Food: lots of posts featuring kids eating fun pasta or colorful lollipop "bouquets" and cute snaps of adults enjoying a childhood treat for a good cause
Outdoor Greenery: your supporters can share photos of their new bulbs on Instagram and follow up with each other about their plants' progress
Home Accessories: neighbors alert each other on Facebook about where to buy cute candles for friends and family
 In our own fundraising business, we find that fun, unique products spark positive conversations not only on social media but also at the dinner table. Talk about a rewarding combination! We are honored to not only help organizations generate donations, but to also strengthen family and community relationships.
Whatever your nonprofit's fundraising approach has been in the past, take a minute and review these possibilities.  This year, like no other before, is a time to consider diversifying!
---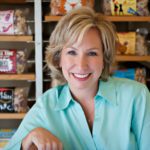 Carey Aron is President of The Pasta Shoppe & the Fun Pasta Fundraising team.  For more than two decades, they have been creating innovative, healthy, fun pasta for families!  Fun Pasta offers a unique, online, and contact free product fundraising program for groups of all sizes.
When not in the kitchen whipping up a pasta recipe, Carey can usually be found hiking in local parks, ripping recipes out of food magazines, or binge-watching Netflix with her husband and 8-pound Maltipoo.