"I've got to think of reasons for the shoes."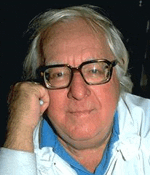 The boy in Ray Bradbury's short story "The Sound of Summer Running" is Douglas, and Douglas wants new sneakers as if his life depends on them.  His parents think last year's sneakers are fine.  To Douglas, last year's sneakers are "dead inside." But how can he convince Mr. Sanderson, the shoe store owner, to let him buy the Royal Crown Cream-Sponge Para Litefoot Tennis Shoes when he doesn't have enough money to pay for them?
It's not reasons that convince Mr. Sanderson.  It's not even his way with words.  Douglas gets the shopowner to put on a pair of the shoes.
With the sneakers on his feet, down below the suit he wears to do business in, Sanderson feels what Douglas feels. They have summer built in. For Sanderson, it's a summer far away, running with antelopes and gazelles, a summer as distant as his own childhood.
Even after he agrees to let Douglas work off the price of the shoes by running–literally running–his errands, Sanderson is still thinking, "Beautiful creatures leaping under the sky, gone through brush, under trees, away, and only the soft echo their running left behind."
Not all of us are marketing shoes.  Some are selling social change.  All of us, though, are Douglas.  We want something that someone else has the choice to give us.  How do we get them to feel, in every inch of themselves, from the ground up, that they want it too?  How do we get them to put on the shoes?