Are you looking to boost your nonprofit's website's traffic? Maybe your site sees little traffic, only a few thousand visitors per month or so. But you know that you could be doing more when it comes to promoting your website. After all, more website traffic means greater visibility for your mission and even a donation boost!
Using search engine optimization (SEO) strategies is a popular strategy among nonprofit organizations to increase their website engagement. SEO is a set of techniques used to boost a website's visibility on search engine results pages by improving its appearance, content, and technical structure.
If you're interested in adopting SEO strategies but don't know where to start, these tips will set you on the right path:
Incorporate keywords into your website content.
Offer valuable educational content.
Streamline your site's user experience.
Build a strong internal and external link profile.
SEO can be a great addition to your nonprofit's digital strategy. It can supplement your other online marketing efforts to create a well-rounded digital presence and grow your audience. Let's dive in!
1. Incorporate keywords into your website content.
In the context of SEO, keywords are the terms or phrases that people type into a search bar when they're looking for information. When you use keywords naturally in your online content, you signal to search engines that your content is relevant to the terms and questions people are searching for.
For instance, let's say your nonprofit supports girls entering the STEM field. Some popular keywords that are relevant to your mission might be "scholarships for girls in STEM" or "conferences for girls in STEM." By including these keywords in your blog posts or "about" page, you're telling search engines that your content is relevant to searches for STEM opportunities.
Also, consider keywords that are popular locally when crafting your site content. For instance, if your organization is looking for local volunteers or donors, you might target keywords like "volunteer opportunities near [your city's name]" or "nonprofits near [your city's name]." This can help your local community members connect with your volunteer or donation opportunities.
2. Offer valuable educational content.
You can't just add your keyword to a page a bunch of times and expect your site to rank higher. That's called "keyword stuffing," and it's highly frowned upon by Google and other search engines. These platforms may devalue your content if you adopt this practice.
Instead, your content must have value. If your website features original, engaging, valuable educational content, search engines will note that your content is useful for users, boosting your chances of ranking higher on results pages.
Use your organization's institutional knowledge and expertise to write valuable content. For instance, let's say your organization helps combat the effects of climate change in the Florida Everglades. You might create an in-depth, multimedia guide that explains the issue and educates your audience on the implications of unmitigated climate change on the ecosystem.
3. Streamline your site's user experience.
A good page experience doesn't only encourage visitors to browse and return to your site—it can also impact your search results rankings. In November 2020, Google announced it would start considering page experience when ranking pages.
Make sure each page of your site, from your homepage to your online donation form, offers visitors a user-friendly experience by:
Using a clear page structure: Each page should have a clearly defined title with an H1 tag. All subsequent page sections should use heading tags in descending order (H2, H3, etc.). A clear page structure makes it easy for visitors to browse through your content and quickly find what they're looking for.
Ensuring your website has a fast load speed. The recommended load time for website pages is just two seconds. If your website loads any slower, you'll start losing visitors. To avoid this, compress all images, eliminate unnecessary characters from your code, and avoid complex design elements that require a heavy coding lift.
Crafting an aesthetically pleasing design: Incorporate design best practices such as using white space and multimedia elements to break up chunks of text. 
In addition to these tips, ensure your website is mobile-friendly. According to this nonprofit fundraising statistics page, half of all nonprofit website traffic last year came from mobile and tablet users. If your website isn't optimized for mobile, a large swath of visitors can't use it. Review how your website looks in mobile view and adjust any formatting issues as needed.
4. Build a strong internal and external link profile.
As you start building your SEO strategy, create a plan for using valuable links both inside and outside of your website.
Each page of your website should include links to other pages on your site using in-text links and buttons. A strong system of internal links helps search engine crawlers move through your website quickly and efficiently.
An external or backlink is a link on a different website or blog that leads back to your website. A strong backlink profile signals to Google that your content is legitimate and valuable for users.
The most effective strategy to build your backlink profile is creating valuable internal content on your website that encourages external sources to link to your pages. You can also begin writing guest blogs for other organizations' websites that link back to your own site. The more reputable the organization, the more powerful having a backlink on their website is for your organization.
Your linking strategy can help spread awareness of your organization and establish your brand as trustworthy and authoritative.
Ultimately, keep your audience members in mind to build a strong nonprofit SEO strategy. What are your nonprofit's current and prospective donors, volunteers, and other supporters searching for? How can you help connect them with the information they need? If you can appeal to supporters' interests and help fulfill their search intent, you can effectively improve your search engine rankings.
---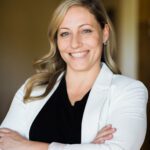 As Founder and CEO of Kanopi Studios, Anne helps create clarity around project needs, and turns client conversations into actionable outcomes. She enjoys helping clients identify their problems, and then empowering the Kanopi team to execute great solutions.
Anne is an advocate for open source and co-organizes the Bay Area Drupal Camp. When she's not contributing to the community or running her thoughtful web agency, she enjoys yoga, meditation, treehouses, dharma, cycling, paddle boarding, kayaking, and hanging with her nephew.
https://twitter.com/Anne_Kanopi
https://www.drupal.org/u/annabella