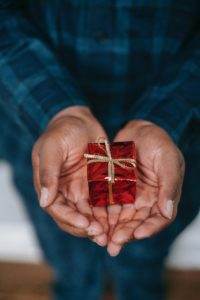 You can share a lot more content with your donors and supporters if you don't have to write it all.
Click To Tweet
Giving your donors content that matters to them is a generous gift. It's also a way to make them value their relationship with your nonprofit even more.
When you share information that make them feel better, or smarter, or more well informed, you are priming your donors to read the next thing you send them–even if the next thing is an appeal for their support! And you are making them more likely to be generous in their turn.
But how do you come up with that content? Day after day, week after week, in your blog, your social media, and your newsletter?
Partly, you adopt an environmental philosophy: "reuse and recycle." The same idea can turn into a blog post, a newsletter article, a video, and multiple posts or tweets on social media.
But partly, you realize that you can make good use of content that other people have created.
Working with Guest Authors
You might have noticed that I've had the pleasure of hosting a bunch of guest posts in the last few months:
And you will see more guest posts mixed in among my own inimitable prose in the months ahead! That's not just to make my life easier (although it certainly helps). I host guest authors because they have something valuable to share with you, the readers of this blog.
How can your nonprofit work with guest authors to inform, entertain, and delight your donors? Here's my advice:
Have a strong sense of your audience, and make sure your guest authors are speaking to that audience. (If they aren't yet, show them how you do it!)
Promote their guest posts on your social media, and ask them to do the same, on theirs.
Develop a working relationship with the guest author, so they are interested in sending you more good content in the future.
Collecting Content from the Web
Besides the people who write guest posts for you, where else can you get news, advice, perspectives, and information that your donors and supporters will love?
Answer: online.
You can approach the task of collecting content for your audience from the internet in two complementary ways. You can search for keywords you know will interest them, and you can monitor other sites that routinely post the right stuff.
For keyword search, please don't spend your time manually checking for your keywords over and over. Automate it!
I recommend you set up a Google Alert  for a few keywords related to your donor's interests. Have Google send you a daily digest by email. Then, you can look at the articles when you have the time and choose the ones that really hit the spot. Schedule them using something like Hootsuite or Buffer, or the tool of your choice.
For monitoring sites you like, the best tool I have found is Feedspot. I add blogs and websites I know produce valuable content for my audience. Then, from time to time, Feedspot suggests other, similar sites.
Again, if you use a tool like this, it's convenient (because you can look through a list of posts all in the same email), efficient (because it takes much less time than visiting all those sites), and encouraging. Yes, you will be more likely to communicate regularly with your donors if you know it will be easy!
Adding Value and Making It Your Own
Now the work of communicating with your donors consistently has become much simpler. Congratulations! But please make sure that when you curate other people's work, you a) give credit where credit is due, and b) put your own twist on what you share.
You can give credit by naming the original source and linking back to their site.
You can make it your own by adding something to what they wrote–ideally, something that your organization is in a special position to say. Let me give an example here.
One of my clients is an organization dedicated to helping Black women find the resources that they need to heal, advance, and organize. They work on a variety of issues, because their focus is not the issue but the person affected. Because of that:
When they share an article about navigating the medical establishment, they add an intro about the particular barriers Black women face, and strategies to surmount those barriers.
When they post items related to Mother's Day, they relate them to Black women raising children.
When they direct their constituents to information about harm reduction, or environmental racism, or policy initiatives, they choose sources that take the experience of Black women into account–and they add thoughts based on their own expertise.
If you get into the routine of choosing content with your audience in mind, and putting it in the context that matters most to them, your readers…
…then those readers (including your donors!) will welcome every email, every blog or social media post, every video,  every newsletter you send their way. Each bit of content will be a gift you send them. And they will reciprocate with their own generosity.