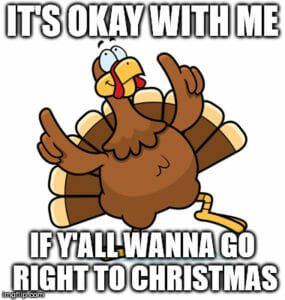 If you work at a nonprofit, next week is not just Thanksgiving. It's the start of a mad scramble toward the end of the year.
The numbers don't lie: almost a third of the donations the average nonprofit receives will arrive in December. So yes, it's vital to get your end-of-year fundraising right. And you can find out how to write the ideal appeal letter elsewhere on this blog!
But don't skip thanksgiving. Not just the holiday. The act of giving thanks…to your donors.
How to Give Thanks (and Get Donations)
Kristina Leroux has written such good advice about giving thanks that I want to quote her at length.
Unfortunately, while Target can get away with Christmas displays and Hark! The Herald Angels Sing in October, your nonprofit cannot afford to skip the act of Thanksgiving.

Whether you get a gift in November or March, it always needs to be Thanksgiving at your organization.

Here are a few tips about thanking your donors:
Let's start by thanking Kristina for sharing these tips with us–and the best way to thank her is by putting them into practice, today!