It's September. You may be looking ahead to your end-of-year appeal and thank-you letter, and congratulating yourself on getting to it early, long before the new year.
But is it already too late? Is the year over?
Thank God, It's a New Year
This time next week, many Jews will be celebrating the new year, with the Rosh Hashanah holiday.
Wiccans and other pagans celebrate the Autumnal Equinox (Mabon) on Friday, September 22, which Jews outside of Israel consider the second day of Rosh Hashanah.
The Chinese New Year is next year on the Western calendar: February 16, 2018, to be precise. The Persian New Year, Nowruz, will arrive on March 21. The Cambodian New Year? Not until April 14.
And you thought the holiday season was in December!
Yes, You Can Keep Track
Let's get real. Unless you're a Jewish organization, you're probably not sending out an appeal to your supporters timed for Rosh Hashanah. But ignoring the holidays that matter to your donors is not a good idea.
If you notice the new years that your supporters celebrate, they will be grateful. So few people in the majority population pay any attention at all. If you recognize  next week that it's Rosh Hashanah (or next spring that it's Nowruz, or Chinese New Year), you will get a lot of credit.
And it's just not so hard to wrap your mind around the idea that there can be more than one new year. Your nonprofit may already be paying attention to the start of the new year, and the federal government's budget year, and your own fiscal year. You know how to do this!
Sending Greetings to Your Mailing List
How do you wish people well on their holidays when you may have Christians, Jews, pagans, Muslims, Hindus, Buddhists, and atheists on your list?
Ideally, you keep a record of which holiday each person on your list celebrates. Then, you send personalized email to each one.
(It helps a lot if your email list is in a database instead of a spreadsheet, and if you use an email service provider like Constant Contact or MailChimp and not just Outlook or Gmail.)
If you haven't kept records of which holidays are meaningful to which of your contacts, now would be a good time to start!
My Holiday Gift to You
While you are putting together those records, I'll help you send holiday greetings to all. Here's how: feel free to cut and paste the third, fourth, and fifth paragraphs of this message into your email and social media. Edit judiciously. Add these words: "To all our friends who celebrate these holidays, we send our warmest greetings."
That's it for now. Thanks! Who's looking forward to Groundhog's Day?
---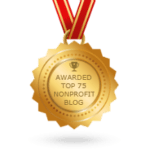 We're honored that Feedspot has named the Communicate! blog as one of the top 75 nonprofit blogs to follow in 2017. Read more about nonprofit marketing, fundraising, and thanking donors at www.dennisfischman.com