You have probably sent your donors dozens or hundreds of fundraising letters for your nonprofit. But have they ever seen a letter from a satisfied client?
Stephanie's Story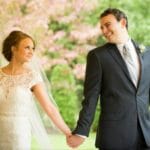 My friend Carol Reiman sent me a letter she received by email from the nonprofit organization InterfaithFamily.
"Dear Carol," it began (a good start, calling the donor by name):
Confused. The best adjective I can use to describe how I felt about planning my interfaith wedding before learning about InterfaithFamily.
The writer, Stephanie Radowitz, says she grew up Catholic and knew nothing about planning a wedding with her Jewish spouse. She was afraid she'd create hard feelings on what should be one of the happiest days of a couple's life. Then, a co-worker connected her with an organization for people like her and her husband.
Not only did Stephanie learn enough from InterfaithFamily to plan the wedding–she found the rabbi she would trust to conduct the ceremony!
I cannot thank IFF enough for providing me with abundant resources, new friends and experiences. It is why I continue to stay connected to IFF and why I am giving back to help other couples who are navigating their own interfaith path. I hope you will consider joining me by making a gift to InterfaithFamily today and turning the confusion for so many couples like us into possibilities.
What the Client Did Right
There are so many things to love about this appeal letter!
The subject line is "Happily ever after starts here." Who wouldn't open that email, to find out where you can find "happily ever after?" (If it were postal mail, she could have used that line on the envelope.)
Stephanie tells a story. It has a narrative structure: heroine, challenge, helpers, solution. She doesn't just tell us that the nonprofit helped her. She shows us how.
It uses "engaging" photos. (Pardon the pun!)
It has a warm, personal voice.
It smoothly directs readers to where they can find out more about the organization.
It asks for money. (Yes, you have to ask! And look how effortlessly Stephanie slips from her story to "And that is why" she's supporting IFF.
It uses a postscript to make giving urgent. P.S. An anonymous donor has agreed to match all new and increased donations. Make a gift today and double your impact!
Okay, Maybe the Client Had Help
Stephanie's letter is better than the vast majority of appeals I see written by paid staff at nonprofit organizations. Maybe she's just an exceptional writer and intuitive fundraiser. Chances are, however, she had help.
Who is the Stephanie in your nonprofit organization: the client with a great story to tell? Can you interview her and write it up in her voice? Or can you share a template with her to make it easier for her to write the letter? Either way, it will ring true and make your donors want to give.
As long as the love rings true.