A guest post by John Killoran of Clover Leaf Solutions
Nowadays, there's software for everything — including for the work that you do as a nonprofit professional. Whether you want to more easily connect with donors, grow your revenue, or just have a home base for all of your information, there's software that can help.
However, because there are so many software options available, you might be wondering which platforms are worth the investment. The latest nonprofit trends show that technology is essential for organizations like yours, but where should you even begin?
We're going to review 5 of the major types of nonprofit software so you can get a sense of the variety of offerings out there. Our top 5 picks are:
Donor Databases
Online Fundraising Tools
Matching Gifts
Marketing Software
Volunteer Management
Ultimately, these tools allow you to spend less time on paperwork and task management and more time on doing what you love.
1. Donor Databases
Let's face it — keeping track of all of your donors and transactions is difficult. You want to show each supporter how much you value their contributions, but attempting to personalize every thank-you note or donation request would be incredibly time-consuming.
That's where donor databases come in. Also known as constituent relationship management (CRM) software, donor databases can help you keep track of your supporters' donations and involvement with your organization. Using a donor database allows you to:
Easily personalize your communications: With a donor database, you'll have a record of every donor's name, contribution amount, and any other information you request during the donation process. With everything organized in one place, it's much easier for you to automate personalizing direct mail, email, or text-to-give campaigns.
Build better relationships: Now that you can keep track of each donor's information in a readily accessible database, you can focus on getting to know your donors. Using your database's personalization and communication tools, you can build better relationships with your donors.
Re-engage disconnected donors: A database can help you find patterns among your donor base. You'll be able to see who is engaged and who isn't so you can strategize on how to rebuild relationships.
2. Online Fundraising Tools
Practically every nonprofit is using the internet to connect with donors, accept donations, and grow their audience these days. Raising money online is essential, especially if you want to expand your nonprofit beyond your local community.
Online fundraising tools can make it easy for donors to engage with your organization and for you to manage your different fundraising campaigns.
With a wide variety of tools — including peer-to-peer campaigns, text-to-give, crowdfunding, and more — this type of software can help you diversify how you fundraise. You can also:
Stay organized: If you're launching a major digital campaign, online fundraising software can help you keep track of the influx of donations, monitor new donors, and consolidate your marketing materials in one place.
Develop an online presence: This software can also help you grow your online presence. By directing donors to your online platforms through your text-to-give campaign, for example, you can increase the traffic on your website.
Easily engage donors: Online fundraising software makes it easy to send personalized thank-you notes or updates about your campaign to donors.
3. Matching Gifts
Matching gift programs and other forms of corporate giving are extremely underutilized by nonprofits despite being an easy source of revenue. In fact, according to 360MatchPro, over 18 million people work for companies with matching gift programs!
Not only do matching gift programs boost your bottom line, but they also help donors grow their impact, which then deepens their attachment to your organization. With the help of matching gift software, you can make it easier for donors to determine their eligibility to get their contributions matched.
Other benefits of a matching gift software include:
Increasing revenue: Matching gifts are a great way to increase your revenue. Not only are your supporters' gifts essentially doubled, but donors are also more likely to contribute higher amounts if they know their gifts are being matched.
Connecting with more people: With a matching gift program, your supporters can serve as advocates for your cause in their workplace, which might encourage more people to donate.
Strengthening relationship in the community: Involving the business world in your nonprofit's work can help you better situate your nonprofit within your community. Doing so will help you grow your network, which could create additional event opportunities or partnerships.
4. Marketing Software
It's great to have a donor database, online fundraising tools, and software for tracking matching gifts, but these platforms won't be very helpful if you can't actually reach your supporters.
Marketing software makes it much easier for you to reach your donors in a timely, engaging, and consistent manner. Your supporters have already shown interest in your nonprofit, so they want to hear from you! Here are some key benefits of using dedicated marketing software:
Easily reach your supporters: Marketing software allows you to easily contact your donors. You can send updates, thank-you notes, and donation requests with the click of a button. Plus, with marketing software, you can be sure to personalize your messages by using your donor's name or specifying their donation amount.
Determine effective strategies: Using the metrics from your marketing software, you can also see which types of campaigns are the most successful among your donors.
Stick to consistent branding: With all of your marketing materials in one place, you can also ensure that your branding remains consistent. A memorable brand reassures donors that they're in the right place and can increase your visibility in your community.
Marketing for your nonprofit is not just important for donor acquisition, it's also crucial for donor retention. Marketing software can help you to keep your donors engaged so that they continue to support your cause.
5. Volunteer Management
Volunteers are the backbone of your organization. They're passionate individuals who generously donate their time and energy so that your nonprofit can continue to forward the social good.
Incorporating a volunteer management system into your organization can give you the tools you need to oversee your volunteers and to show them that you value their hard work. For example, this type of software allows you to:
Keep track of volunteers and their hours: Handwritten hour logs are a thing of the past. With volunteer management software, you can keep a detailed record of how many hours each volunteer has contributed for the month.
Easily contact your volunteers: Your volunteers are among the most engaged of your supporters, so you want to be in close contact. This software can allow you to send quick updates or thank-you messages to your volunteers, which can add a personal touch to your volunteer program.
Keeping your volunteer program organized is also a great way to demonstrate your professionalism and how much you value your volunteers' time. No one wants to waste time checking in or trying to figure out which days of the week they should come in. With this software, your volunteers won't have to worry about that.
If you want to learn more, this Galaxy Digital guide outlines the tools you should look for when selecting your volunteer management software.
Takeaway: Investing in nonprofit software can save you time, earn you more revenue, and enhance your connections with donors.
Click To Tweet
---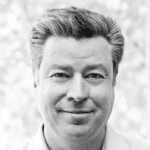 John Killoran is an inventor, entrepreneur, and the Chairman of Clover Leaf Solutions, a national lab services company. He currently leads Clover Leaf's investment in Snowball Fundraising, an online fundraising platform for nonprofit organizations.
Snowball was one of John's first public innovations; it's a fundraising platform that offers text-to-give, online giving, events, and peer-to-peer fundraising tools for nonprofits. By making giving simple, Snowball increases the donations that these organizations can raise online. The Snowball effect is real! John founded Snowball in 2011. Now, it serves over 7,000 nonprofits and is the #1 nonprofit fundraising platform.