Recurring donors are the ones who've agreed to donate every quarter, or every month. They know, like, and trust your nonprofit organization enough to let you charge their credit card or deduct from their bank account without getting their authorization every time.
That's a huge gift–on top of the actual gift amount.
When you have monthly donors, 90% of the time they keep on giving, even when their initial pledge runs out. They are your most loyal supporters. Compare that to the less than 30% of first-time donors who typically renew, and you'll see just how valuable they are!
Recurring donors give automatically. When you thank them, though, it should be anything but automatic. Click To Tweet You need a deliberate and thoughtful approach to showing donor love to this special group.
A Thank-You Email to a Recurring Donor (Me)
For years, my wife and I have given to Boston Area Gleaners, which collects food that would otherwise go to waste and gets it to food pantries and other places for people in need. Last year, we decided to give $5 a month.
That's not a huge amount, but it got a huge response. Take a look at the following email from the Gleaners.
---
Subject: Thank you for your monthly gifts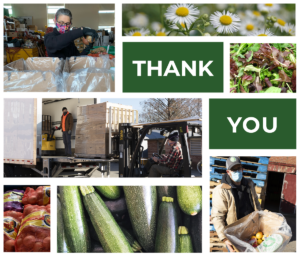 Dear Rona,
I hope that you and your loved ones are safe and well.
As a monthly donor for Boston Area Gleaners, we try not to bombard you with emails, but every few months we want to make sure that you hear from us to know how grateful we are for your ongoing donations and to hear a little about what your support allows us to do. While a lot of our focus over the past few months has been on raising the funds to secure a new home for the Gleaners, our daily operations also continue, and because of your support we are able to keep providing nutritious food to families in need.
As we just wrapped up our fiscal year, we have been reflecting on these past twelve months. The past year has been challenging for everyone, but particularly so for those who have been struggling to feed their families. With your help, we have been able to distribute over 8 million pounds of food to hunger relief agencies and other organizations on the front lines who are working in some of the hardest hit communities in the region. A significant amount of that distribution has happened in the last several months—our typical 'offseason'—during which your support enabled us to set up new equipment, maintain operations, and continue packing food. According to recent data, food insecurity rates in Massachusetts are at an all time high. As the state starts to reopen, It is going to be critical that those who are experiencing food insecurity are not forgotten.
As the weather warms, we are looking forward to a busy gleaning season and to welcoming more volunteers into the fields again. The next few months are going to be busy for the Boston Area Gleaners team, but we hope to invite everyone to visit our new home soon.
Our monthly donors hold a special place in the heart of the organization, and we thank you for your unwavering faith in us. 
As always, please be well.
Usha Thakrar
Executive Director
---
What does this TY to recurring donors do right?
It says "Thank you" in the subject line.
It says because of you, and therefore, it makes the donor the hero of the story.
It sets expectations. As a monthly donor, I don't need to get a TY just for the sake of the TY every month. But I do want to know that the organization is keeping me in mind, and that I will hear what my gift is accomplishing.
It uses photos effectively. Photos of people grab the eye and show the process of getting the food where it needs to go, at every step of the way. Photos of yummy-looking plants make the donors feel good about what they are giving: not just a check, a meal!
It reports back and looks forward.
What this TY to recurring donors could do better
The subject line needs to be more exciting if I'm going to open the email. (And all the good content in the email will be wasted if I don't!)
The paragraphs need to be shorter if I'm going to read them. (Bold type helps break up the wall of text, but more paragraph breaks are needed!)
"We" needs to mean the organization and me–not just the organization. That's putting me off, just when you mean to draw me in.
Ideally, the TY should include a call to action. NOT another request for money (the dreaded "thask"), but a chance to volunteer, or to pass word about the Gleaners to a friend…or just to like them on Facebook.
All in all, though, the Gleaners are doing a pretty good job of making sure that Rona and I will keep on giving monthly and stay in the magic circle of recurring donors.
How is your organization thanking the people who support you the most?