A guest post by Murad Bushnaq of Morweb
Your nonprofit website's homepage is the very first place prospective supporters will land when they find your website. Is it providing the most engaging and informative content possible to grab their attention and motivate them to continue exploring your site?
If not, you may need to revamp your homepage so supporters will stick around and find more ways to get involved in your mission. Use these essential tips to guide your homepage design:
Brand your homepage.
Include your mission and values.
Use compelling CTAs.
According to NXUnite, your nonprofit website is an integral part of your digital marketing strategy — let's explore how you can strengthen your overall marketing plan with just a few edits to your existing homepage.
1. Brand your homepage.
Your branding helps to set your nonprofit apart from the crowd and demonstrate why supporters should give back to your specific cause. Branding also helps to boost your credibility and build your reputation, making your website look more professional and put together.
Make sure to include the following branded elements:
Logo. Place your nonprofit logo in the top right corner of your homepage, so users instantly recognize your organization. Keep your logo consistent throughout every page of your website to maintain credibility.
Images. Brand your homepage with images that tell your nonprofit's story. Show your mission in action with photos of volunteers and beneficiaries experiencing your organization's unique impact.
Typography. Choose easy-to-read fonts for your website headers and copy. Consider staying within the same font family to keep your homepage visually consistent.
Messaging. Don't assume your website visitors know what it is you do. Rather, clearly explain what makes your nonprofit different and how you're working to improve the community or world at large.
Templates. Use specialized tools like adaptable website templates to effectively organize your homepage information. These templates can help your team quickly structure your homepage without getting bombarded by technical logistics.
All of your branded elements should be visually appealing and connect back to your mission so supporters can pinpoint your nonprofit's unique personality. If your website lacks an essential brand element or needs some retouching, consider updating your homepage with a new template or exploring images that better encapsulate your values in action.
2. Include your mission and values.
What does your nonprofit stand for and why should people care about this cause? Clearly identify your mission and values and make sure to make them both emotionally compelling and concise. This will give supporters a deeper look into who your nonprofit is.
No one knows your mission as well as you do. However, website visitors often don't have time to dig into the details of your nonprofit. To keep your mission section brief and impactful, consider applying these tips:
Use stats. Numbers don't lie. Tell your nonprofit's story by highlighting impactful statistics like how many wells your team has built or how many families have been fed. Include statistics to update visitors on your current progress and nudge them towards support.
Include a video. Sometimes video is the most effective method for communicating your nonprofit's vision. Prioritize visually conveying the emotional impact of your cause, and consider partnering with a nonprofit video provider to get the editing just right.
Add testimonials and quotes. Sum up your organization's purpose with quotes from your beneficiaries. Consider adding the beneficiary's photo next to these quotes, but be sure to ask for consent before publishing them on your homepage.
Provide case studies. Organize your mission section by providing brief case studies of your organization's efforts. For example, you might include the results of successful campaigns over the years.
Your mission and values section represents the core of your organization. Use these tips to convey who you are in a memorable way, so supporters quickly understand the gist and are motivated to donate, volunteer, or learn more.
3. Use compelling CTAs.
Another website best practice is to create clear user pathways across your homepage. Use distinct CTAs or calls to action to urge visitors to become supporters. Make it easy on them by keeping your CTAs prominent, so all users have to do is click to support your cause!
Direct supporters to your donation page, volunteer sign-up page, and other important pages to keep to encourage website donations. Your CTAs should be:
Brief. Aim to keep your CTAs between one or two lines to get your message across. For example, you might choose to incorporate a "volunteer today" or "donate now" CTA next to relevant campaign information.
Urgent. Inspire support by conveying an urgent tone. Communicate that your nonprofit needs supporter help to make your mission a reality.
Bold. Catch website visitors' attention by carrying a boldness in your message. Don't be afraid to get emotional and tell your visitors why your cause is worth their time.
Well-placed. The best CTA will go unnoticed if it's buried under unnecessary website information. Place a CTA at the top of your homepage and add specific CTAs throughout your website's pages.
Action-oriented. Remember, it's a call to action — use energetic language to convey a rallying cry. Transform "submit a donation form" into "join the fight against hunger!"
Morweb's 30+ Best Nonprofit Websites includes several snapshots of well-built websites with CTAs to get inspired by. For example, The Community Foundation of Sarasota (CFSC) furthers community care, empowerment, and success. CFSC's call to action urgently calls for support:
"Be the one. Each one of us has the potential to impact a person, a cause, a community." 
Concise, catchy, and powerful, CFSC catches visitors' attention in a matter of seconds without going into too much detail. Their "donate now" button prompts visitors to "be the one." Do some more research and find the right CTA language that fits your nonprofit brand and mission.
---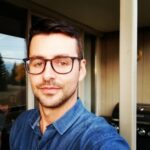 Murad Bushnaq is the Founder and CEO of Morweb. Since its inception in 2014, Murad has acted as Creative Director and Chief Technologist to help nonprofits spread their vision online through engaging design, intuitive software and strategic communication.