A guest post by Carl Diesling, DNL OmniMedia
The final three days of December are some of the most significant fundraising days of the entire year. But, when December comes around, will your nonprofit be looking back upon a successful year-end giving season or a series of challenges that prevented you from reaching your full fundraising potential?
Year-end giving in 2021 is rife with challenges both new and old, but that shouldn't hold your organization back from funding your mission.
In this guide, we'll cover two challenges that nonprofits are facing with the 2021 year-end giving season, as well as solutions to help your nonprofit confront them. For more tips, explore DNL OmniMedia's guide to year-end giving.
Let's get started.
Challenge: Balancing in-person, virtual, and hybrid events
Last year, in-person fundraising events were either pivoted to the virtual sphere or canceled outright as COVID-19 safety protocols prevented in-person gatherings beyond individual households. Now, with vaccinations widely available, in-person events are an option for your nonprofit once more.
While some thought the return of in-person events meant a return to normalcy, that has been far from the case. Instead, your nonprofit is facing a complicated year-end event atmosphere in which all of your supporters are seeking different experiences. For example, you'll have groups that:
Feel safe returning to in-person events.
Feel unsafe and uncomfortable with the return to in-person events.
Enjoyed digital fundraising events and would like to continue with that format, regardless of safety concerns.
Are eager to return to in-person events as soon as possible.
Now, your nonprofit has to decide whether to host virtual, in-person, or hybrid events (or, a combination of all three). Only hosting one of the three puts you at risk of isolating a segment of your supporter base.
Solution: Create a strategy that incorporates a variety of event types to appeal to all supporters.
Incorporate virtual, in-person, and hybrid events into your year-end fundraising strategy to ensure you offer opportunities that appeal to all. Consider the following ideas for each event type:
Virtual Events: Livestream a comedy show, concert, or cooking course and raise funds through ticket sales.
In-Person Events: Host an outdoor walk-a-thon in which participants raise peer-to-peer funds in anticipation of their efforts during the event itself.
Hybrid Events: Host an in-person auction event and allow virtual participants to attend and place bids via virtual auction software.
Note that some of these events may require an investment into new virtual fundraising software solutions, such as livestreaming software, general virtual events software, or even event-specific software such as virtual auction software. You can also turn to your current event software to see if there is existing functionality to support new event types. For example, TeamRaiser, Blackbaud's peer-to-peer solution, can be used to support virtual and hybrid events alongside in-person events.
Challenge: Decreased team capacity for intensive fundraising efforts
The year-end fundraising season represents the busiest time of the year for your nonprofit in all senses— you have more donations coming in, marketing communications that need to be shared, and events to host.
At the same time, nonprofits aren't known for having an abundance of staff resources. You likely have a few team members who wear many hats, each of whom is responsible for crucial aspects of your fundraising effort. It can be challenging to cover the basic functions of your nonprofit, let alone try new efforts, like innovative new fundraising opportunities that can diversify your fundraising revenue and add stability to your mission overall.
The last thing you want is for your year-end fundraising campaign to stagnate due to limited staff capacity. However, it wouldn't make sense to increase the size of your team permanently for the year-end season alone.
Solution: Partner with a nonprofit consulting firm to fill any gaps in your team's capacity.
A nonprofit consultant can extend your team's capacity during the year-end season, helping you maximize this valuable fundraising opportunity and optimize your strategy for the future. DNL OmniMedia's guide to nonprofit consulting firms discusses a variety of consultant types that your organization can partner with for specific aspects of your strategy, such as:
Technology Consultants: This team can conduct a nonprofit technology assessment, help you choose new software solutions to invest in, implement any new solutions you purchase, and optimize your current technology to perform at its highest level.
Marketing Consultants: This team can develop branding materials and key messaging for your year-end campaign, design marketing materials, and analyze the success of your outreach efforts to continue improving them going forward.
Fundraising Consultants: This team can help you research prospective donors, develop fundraising goals and calendars to achieve them, and pursue innovative fundraising opportunities to diversify your revenue streams.
It's important to find a consultant that not only specializes in the specific service you need but also in the type of organization you are. For example, DNL OmniMedia specializes in nonprofit technology consulting for mid-sized and large nonprofits. However, other consultants specialize in small and growing nonprofits as well.
The 2021 year-end fundraising season is rife with challenges new and old. However, these obstacles don't need to hold your nonprofit back from reaching great heights in the year-end season. Whether investing in new fundraising software and diversifying your calendar or bringing in a new team member for the season, there are strategies to help your nonprofit troubleshoot your year-end giving challenges.
---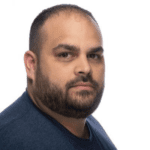 Carl Diesing, Managing Director – Carl co-founded DNL OmniMedia in 2006 and has grown the team to accommodate clients with on-going web development projects. Together DNL OmniMedia has worked with over 100 organizations to assist them with accomplishing their online goals. As Managing Director of DNL OmniMedia, Carl works with nonprofits and their technology to foster fundraising, create awareness, cure disease, and solve social issues. Carl lives in the Hudson Valley with his wife Sarah and their two children Charlie and Evelyn.