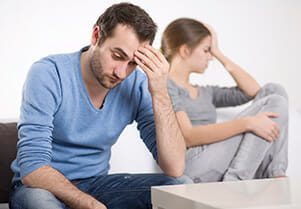 So, who's my next appointment? Ah, Sarah Donor and William Nonprofit. Coming in for couples counseling for the first time.
Counselor: Why did the two of you decide to come in here today?
Sarah: I don't feel like he loves me any more. For a short time when he was wooing me, he emailed every day. He told me how important I was. Once he popped the question–"Will you donate to me?"–and I said yes, he said "Thank you for your gift," and that was the end of the romance!
William: I do love her. At least, I love the way I feel when she supports me. Everything I do is better and stronger because of her. But I don't get all this mushy "Donor Love" stuff. I thought she gave because she cared about me.
Sarah: I do care about William. But I thought we shared the same values. We'd be a strong partnership. But it took him so long to say thank you, and it felt like a formality. And since then, whenever he talks to me, all he can talk about is "me, me, me." Even when he says "we," he means "me."
William: Gee, that's unfair. I talk about the important work I do for the arts, or for the environment, for peace, or for social justice. Aren't those the values we share? I have a big impact. And don't I say I couldn't do it without you?
Sarah: But you never say I'm doing it with you. Or better yet, that you're doing it with me! We only talk when you have something to brag about. And even then, I feel like you'd say the same thing to anyone else who gave you what I give. Sometimes I'm not sure you even remember my name!
Counselor: You both really want this to work out, and that's encouraging. I'm going to tell you, it will be a gradual process–and our time for today is nearly up. Here's some homework.
Mr. Nonprofit, this week you should make some time not to ask Sarah for anything but to learn more about her. When does she like to hear from you? What does she like to be called? And–I know this is hard–what was it about you that made her want to give to you in the first place? (It's not going to be "everything." Be ready to really listen to the answer.)
Ms. Donor, you took an important step by speaking up, and another important step will be to set your hurt feelings to one side. Can you and William plan some fun events together? Can you share some stories about times when other nonprofits made you feel good?
Communications are key, and they happen gradually, not all at once. Thanks for seeking my professional advice today. Next Tuesday, same time?