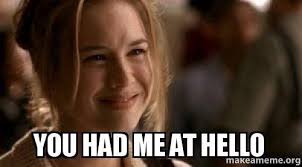 At the end of the movie Jerry Maguire, Jerry tries to tell Dorothy that he loves her. He's ready for a long-winded speech, but Dorothy shuts him up. "You had me at hello," she confesses.
It's a pretty sure bet Dorothy wouldn't have said that if Jerry called her "Dear friend"!
There's a lesson here for your nonprofit.
The Salutation in Your Appeal Letter
This past November and December, the Fischman household received 102 appeal letters from 72 different organizations. I'm happy to say that almost half of them personalized their letters. They said "Dear Dennis," or "Dear Dennis and Rona."
Another 11 were slightly more formal, with a salutation of "Dear Mr. Fischman. A handful went for accuracy and gender neutrality, greeting me as "Dear Dennis Fischman" and us as "Dear  Dennis and Rona Fischman."
I prefer the informal version, and I'll bet most people under the age of 70 do. But the important thing is that, formal, or informal, these organizations called donors by their names.
When you don't use a personal name in your appeal letter, it starts your donor thinking. "I gave them money, and they don't even know who I am? How important can my donation be?" And that's a deadly train of thought for your nonprofit–especially when you are trying to renew donors.
Which is Worse, "Dear Friend" or Nothing?
Of the appeals that came to our mailbox, eleven of them didn't use any salutation at all. That sounds surprising until you consider that some of them were not letters. They were impact statements or faux telegrams, with a reply vehicle enclosed.
I can understand that a greeting wouldn't fit with those formats. I still don't like it. Even if that particular mailing raised money, what does it do to create the loyal donors your nonprofit can rely on from year to year? Nothing–and that's a missed opportunity.
But I still liked it better than the letters that began "Dear friend" (or "supporter," or "member"). A letter is supposed to be personal, and these letters were not.
The One Thing Your Small Nonprofit Can Do that Will Raise More Money
Maybe the Southern Law Policy Center can get away with "Dear Friend." They have a huge mailing list and an established brand.
Maybe the Arthritis Foundation can do it. They have a built-in constituency of people with arthritis pain.
But if your small nonprofit goes with "Dear Friend," you are giving away your biggest advantage in fundraising: your ability to add a personal touch. Make the size of your list work for you.
Call your donors by name and you can have them at hello.